The first thing everybody said after they saw the all-new '68 Datsun 510 with its McPherson strut front suspension, trailing-arm rear layout, and general body shape, was that a cheaper BMW was here. Then they drove the car and found it quite a machine, but not a BMW by any stretch of the imagination. Two things were wrong: Japanese detailing was not in the same league and it didn't handle as well, not quite. The error in this logic is that the 510 wasn't built to compete with the BMW, it's the Beetle you're supposed to compare it with, dummies. From this aspect, things get a lot more even in a hurry.
Standing on a 95.3-inch wheelbase (VW Is 94.5), overall length of the all-steel unit body Datsun is 160.2 inches, width 61.4 and height 55.1. Not much different from the Bug whose measurements go 159.6, 61.0 and 59.1 respectively except the four-inch lower roofline which means a corresponding reduction of front headroom.
Despite the overall dimensional similarities, though, total interior space utilization is improved over the Volkswagen and because of the wide doors it's easier to get in and out – Especially the back seat. With those so-called throne-room front buckets, putting something like a bag of groceries in a VW's rear passenger compartment is a hassle, especially for a woman. Datsun must have recognized this hang-up because their seat mechanism incorporates the neat trick of sliding the whole unit forward on its tracks when the seatback is pushed ahead. But in all fairness, the VW seats are more comfortable, and, with near true chair height, will accept a six-foot three-inch driver's frame, though neither is is Will Cham-berlain territory.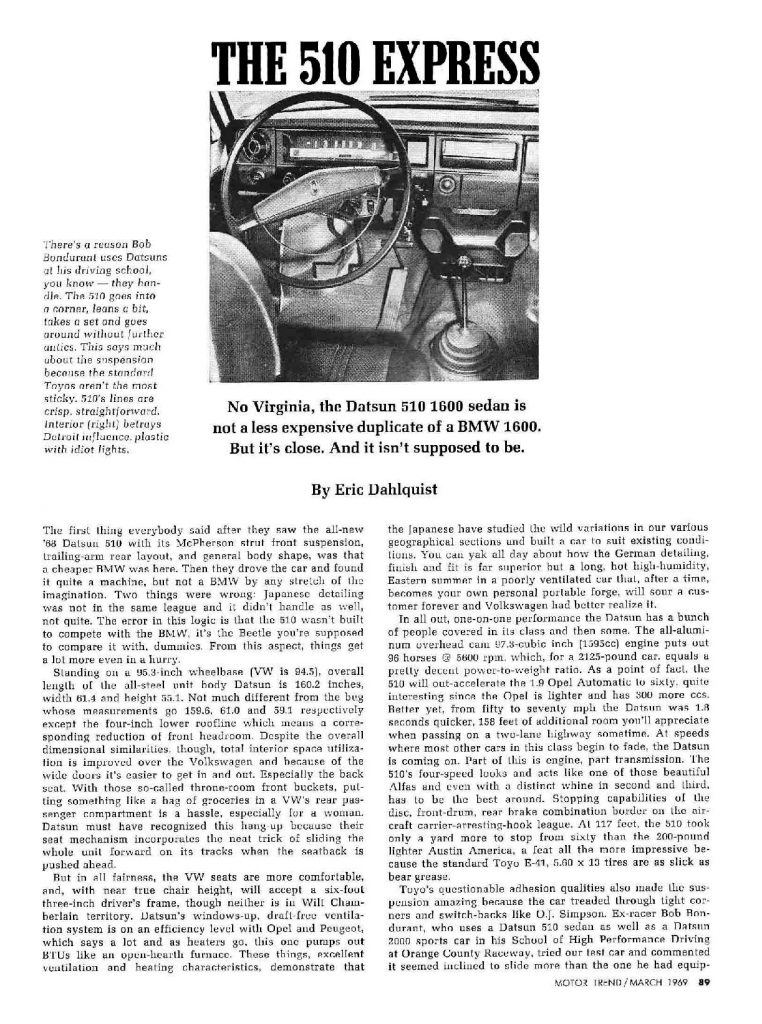 Datsun's windows-up, draft-free ventilation system is on an efficiency level with Opel and Peugeot, which says a lot and as heaters go, this one pumps out BTUs like an open-hearth furnace. These things, excellent ventilation and heating characteristics, demonstrate that the Japanese have studied the wild variations in our various geographical sections and built a car to suit existing conditions. You can yak all day about how the German detailing, finish and fit is far superior but a long, high-humidity, Eastern summer in a poorly ventilated car that, after a time, becomes your own personal portable forge, will sour a customer forever and Volkswagen had better realize it.
In all out, one-on-one performance the Datsun has a bunch of people covered in its class and then some. The all-aluminum overhead cam 97.3-cubic inch (1595cc) engine puts out 96 horses at 5600 rpm, which, for a 2125-pound car, equals a pretty decent power-to-weight ratio. As a point of fact, the 510 will out-accelerate the 1.9 Opel Automatic to sixty, quite interesting since the Opel is lighter and has 300 more ccs. Better yet, from fifty to seventy mph the Datsun was 1.8 seconds quicker, 158 feet of additional room you'll appreciate when passing on a two-lane highway sometime. At speeds where most other cars in this class begin to fade, the Datsun is coming on. Part of this is engine, part transmission. The 510's four-speed looks and acts like one of those beautiful Alfas and even with a distinct whine in second and third, has to be the best around.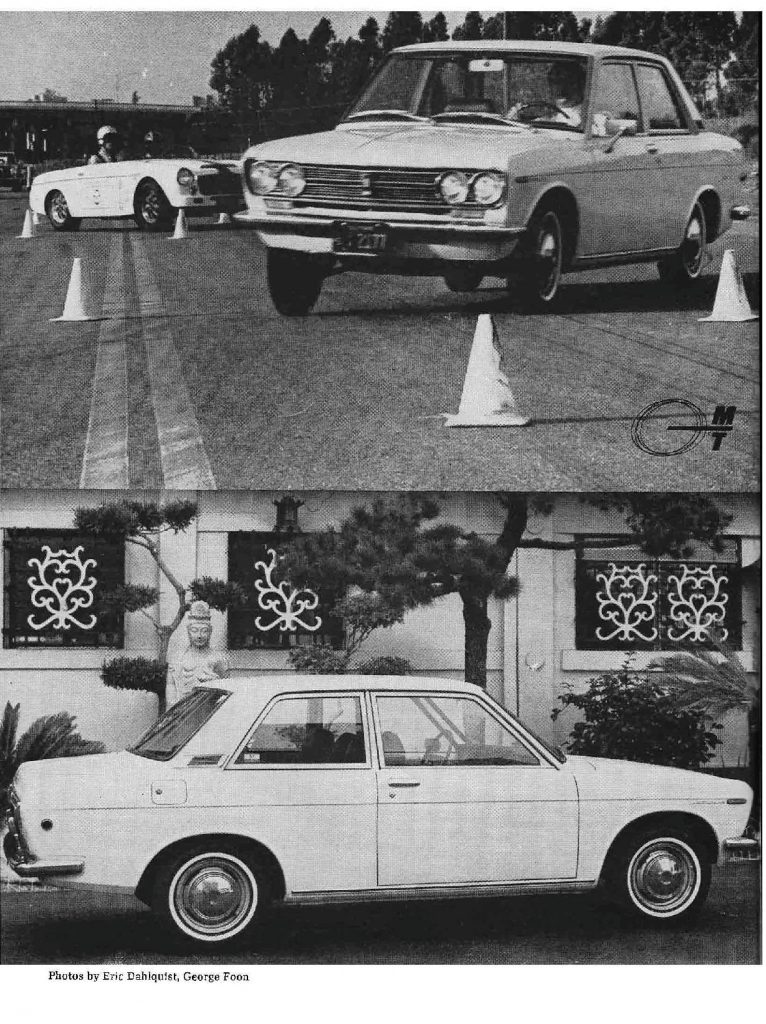 Stopping capabilities of the front disc, rear drum brake combination border on the aircraft carrier-arresting-hook league. At 117 feet, the 510 took only a yard more to stop from sixty than the 200-pound lighter Austin America, a feat all the more impressive because the standard Toyo E-41, 5.00 x 13 tires are as slick as bear grease. Toyo's questionable adhesion qualities also made the suspension amazing because the car theaded through tight corners and switchbacks like O.J. Simpson. Ex-racer Bob Bondurant, who uses a Datsun 510 sedan as well as a Datsun 2000 sports car in his School of High Performance Driving at Orange County Raceway, tried our test car and commented it seemed inclined to slide more than the one he had equipped with fatter tires.
There was no time to experiment with our particular machine, but Datsun, who also realize the original skins leave something to be desired if you have any sporting blood, offered us a four-door shod with Goodyear 175R-13 radial-ply tires. In the space of about four blocks we realized we tested the wrong car, or rather that Datsun ought to just make some good radials standard equipment. The improvement is staggering, something in the magnitude of driving off a sheet of ice onto a dry, concrete road. Riding qualities – good to begin with, are certainly not impaired, they're improved. Another distinct plus we noticed about the four-door was that it had padded carpeting instead of the plain rubber mat that came in our job, so the noise level was de-escalated at least 25 percent. And, that's a good thing. Finally, for some reason, a Datsun, even with its quaint hand choke, has about the poorest cold start characteristics of any car we know. The people of International Falls, Minnesota, will not love them for it.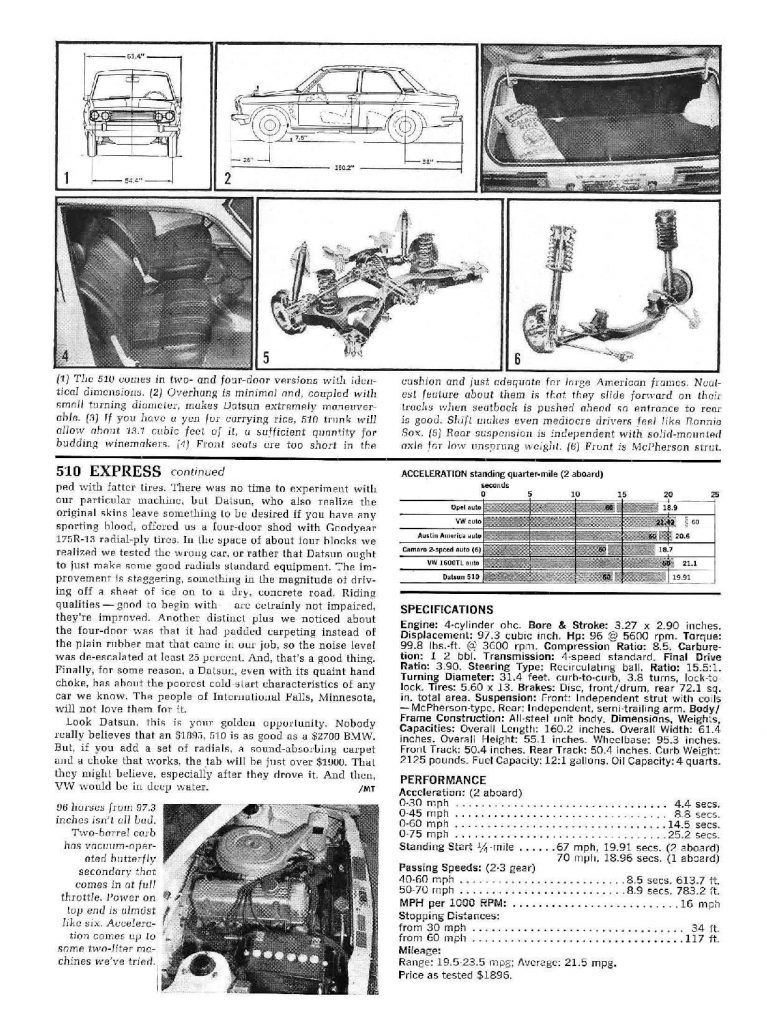 Look Datsun, this is your golden opportunity. Nobody really believes that an $1895 510 is as good as a $2700 BMW. But, if you add a set of radials, a sound-absorbing carpet and a choke that works, the tab will be just over $1,900. That they might believe, especially after they drove it. And then, VW would be in deep water.