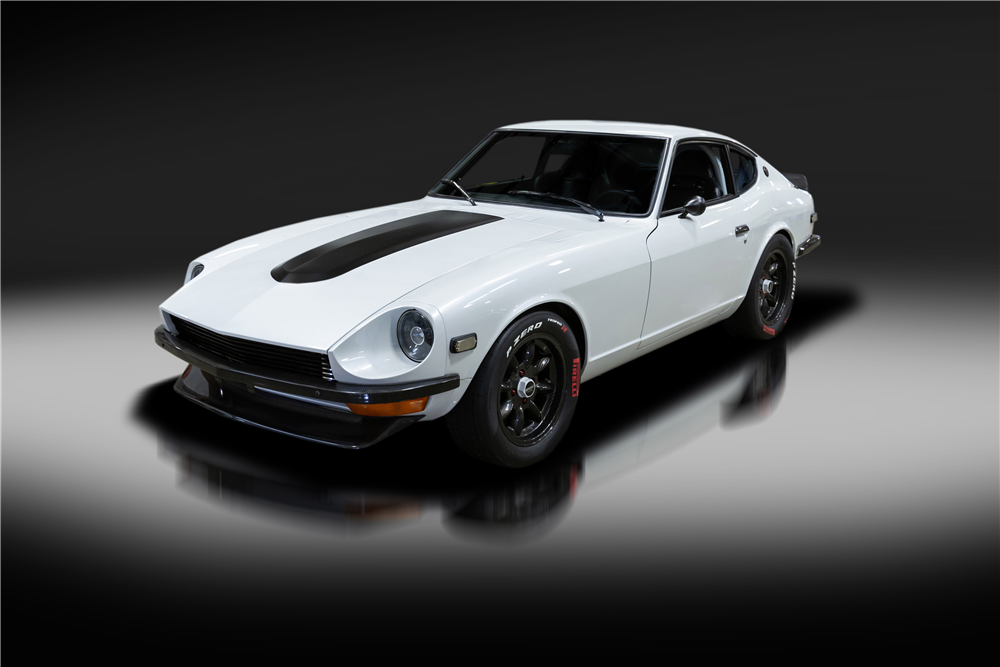 Lot 477.1 – Description from the auction docket: "This Fairlady Z Resto-Mod is the ultimate street machine. Countless hours and dollars were invested in designing, fabricating and restoring this car. The vision of the build was to turn a classic Datsun 240Z sports car into a classic Datsun 240Z supercar. It was a rust-free California car prior to the bare-metal restoration. This car is show-quality throughout. The exterior body is very straight with great gaps. It was painted 2017 GM Crystal White Tri-Coat, which is absolutely stunning. The hood rise and all the trim were painted Satin Black. The car is dressed with Cobra mirrors, halogen smoked headlights, custom emblems, carbon-fiber dipped front and rear bumpers, carbon-fiber front and rear spoilers with matching door handles. The car has a great stance on 16" Pana Sport Racing wheels that were dipped in carbon-fiber on front and back. The wheel center caps were dipped in white carbon-fiber to match the exterior color. The wheels are wrapped with new Pirelli P Zero Trofeo R tires that stick to the pavement. The all-new black interior is tastefully done. Some interior upgrades include aluminum Fairlady Z door sills, MOMO Competition steering wheel, AutoMeter Phantom gauges, Recaro bucket seats, black billet window cranks and shifter with Hurst knob, Performance billet pedals, custom Z accessories, Vintage Air cooling and heating, custom sound system, roll bar and rear strut tower bar, which were painted to match the exterior. The engine compartment is nicely detailed throughout. This car is powered by a GM LS V8 engine with 400+ horsepower. Dyno sheets are included. The intake manifold was dipped in carbon-fiber and the valve covers were painted to match the exterior. It's equipped with many upgrades, such as a custom cold-air intake with K&N filter, Taylor 409 Racing red wires, Aeromotive fuel pressure regulator, AN fittings, Optima red-top battery and custom strut tower bar. The engine is cooled by a custom aluminum radiator with dual electric fans, carbon-fiber dipped cover and aluminum reservoir. The engine breathes through a custom exhaust system with Sanderson headers and Flowmaster mufflers. The engine is coupled to a Tremec 6-speed manual transmission with hydraulic clutch. The power is transferred to the pavement through the Infiniti Q45 R200 VLSD rear end. It has custom billet rear differential mounts and billet axles with C/V halfshafts. The undercarriage is nicely detailed throughout. It's equipped with custom-made subframe connectors from front to back. It has rack & pinion steering. The suspension system consists of MSA camber plates, MSA coilovers, Eibach springs, Tokiko illumine 5-way adjustable inserts, and Suspension Techniques front and rear sway bars. The braking system consists of Modern Motorsports Extreme 13" PBR four-wheel disc brakes with a Wilwood master cylinder. This vehicle has recently been serviced and detailed, which is documented with an invoice that is included."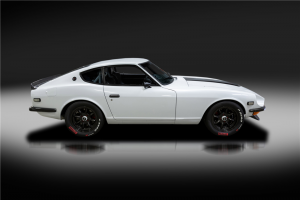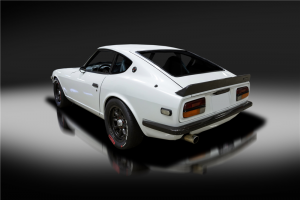 Whew. Well, that was inordinately long. But, this car is well-known in the Datsun community, having been previously owned and meticulously built (and LS swapped) by David Weitz. The following owner then redid the car in a new paint color, revised the interior added lots of carbon fiber (and faux CF) accessories, and brought it to Barrett-Jackson. We have it on good authority that the seller actually lost a substantial sum on this car, and I can't help thinking I really liked it a lot better in its previous iteration: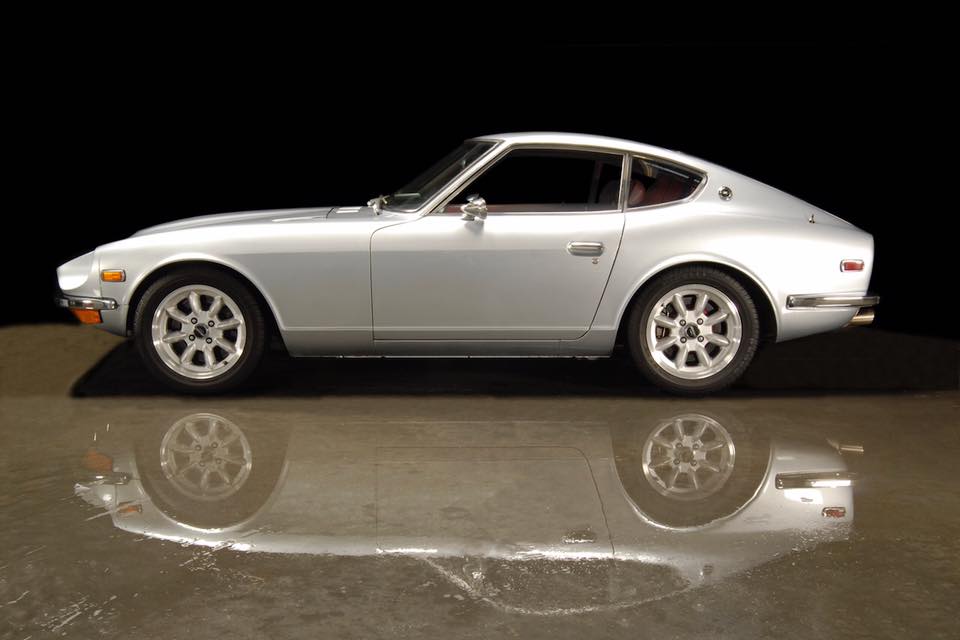 But, I digress. It is what it is, and what it is, is a Z that will make purists cringe, fanboys swoon, restorers admire, and bidders raise their hand.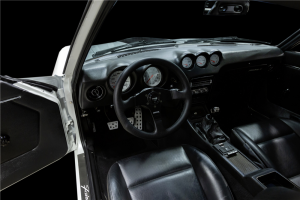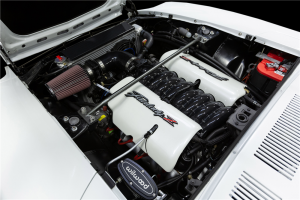 A track-ready restomod that seems too nice to actually take to a track day is the theme here, but it's hard to argue with the combination of high-quality workmanship, a drivetrain that's been sorted not once but twice, and an eye-catching exterior combination of bright white, black, carbon fiber, and red accents… I could certainly do without some of the more gaudy bits, such as the Fairlady emblems on the engine covers, the faux-CF wheel finish, and the tire lettering, but those are minor quibbles and definitely a matter of personal taste. I'd swap out the smallish tire/wheel combo for some wider meats, add in a Zpowersteering kit, ditch the gaudy stuff and go drive the hell out of it.
Speaking of personal taste, I'm a fan of any car that can get people out of their seats and talking about cars, and this one did the job, with a hammer price of $67,100.00. Although it's rumored the seller lost a chunk of change, the bar for restomod Z cars has been, once again, raised.