We first ran across Zackhery Damrau on a Facebook page… As most of you know, I'm an old Datsun collector, and a picture of a raggedy-looking Datsun 620 caught my eye.
My first thought is always, "Hey, that could be restored… or, that'd make a cool rat for cruising!" Well, no such luck for this truck – Zack had different plans. We'll let him tell the story from here on out – it's awesome!
This is my first build ever. The 620 was what got me into learning fabrication. You know the whole "Necessity is the mother of invention" thing? Well, I needed to figure out what had to be done as I went along.
I bought the truck with a KA24E swap last summer from mt good friend Jeremiah. He had already done an S13 240sx independent rear suspension swap on the rear of it, and planned on doing the front as well. But, like a lot of labor-intensive projects, he lost interest and I got a half-done project.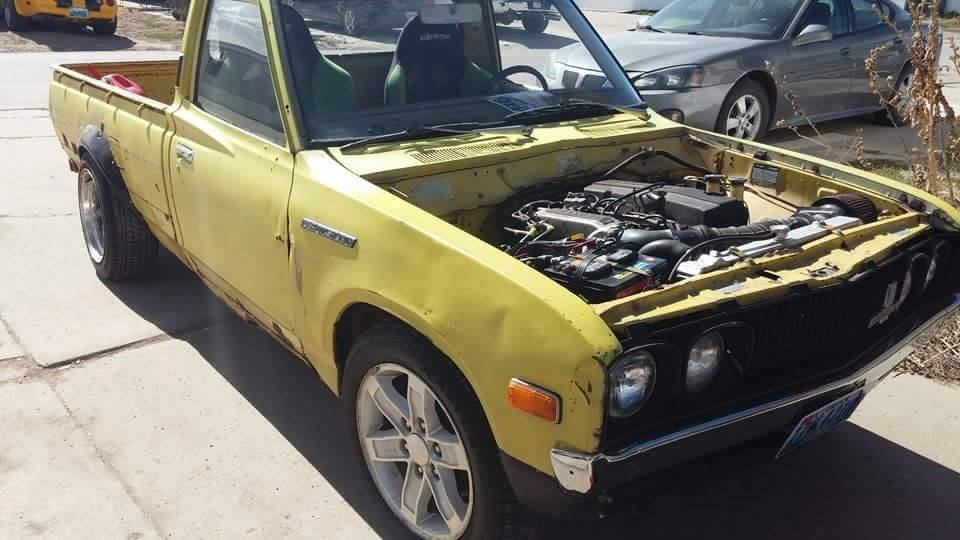 The day I brought it home, it had no lights, no brakes, and no clutch. So, like any good hot rodder, I drove it home on the interstate for an hour and a half. After getting it home, I did the basics to make it more streetable. I ended up getting some wheel adapters / spacers to be able to run 4 lug wheels all the way around.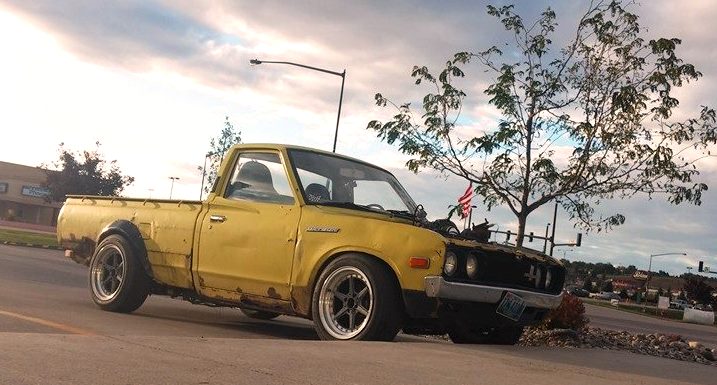 Soon thereafter, I took it to my first drift event. Clutch was completely shot, so I didn't do much actual drifting – but still had fun. In anticipation of the next event, I threw a stage two clutch in it. Only got to run one day before busting the welded diff – Better, but still not enough power to hold a good slide. More power fixes everything, right?
So, in went the most ghetto-ass turbo KA ever – PVC pipe and plumbing couplers. Believe it or not, it held 7lbs of boost just fine – and gave me enough power for the next drift event.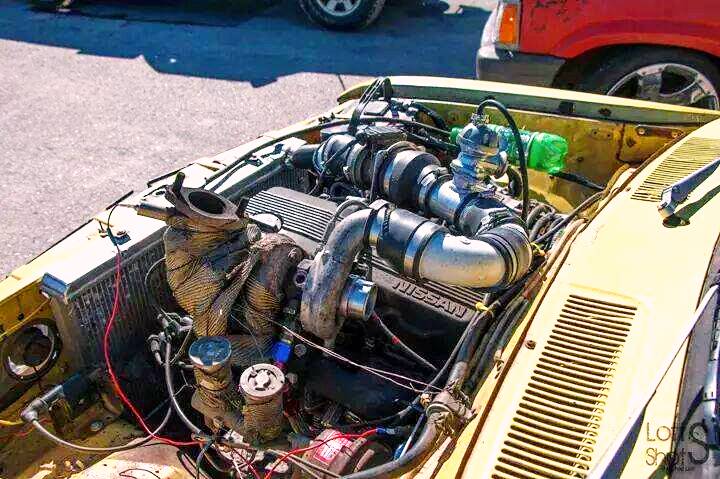 A little later, I got an opportunity to snatch up a totaled 2003 G35 for way cheap. I figured the VQ35DE would be a lot more reliable then my "Home Depot" KA-T (and ultimately different) so I jumped on it.
In a hurry, I pulled the KA and started chopping away at the firewall (with nothing more than a cutoff wheel) to make it fit – way too much, as it turned out. In hindsight, I could have gotten away without cutting the firewall at all. Obviously, some cutting needed to happen to stuff the massive Nissan 6-speed in there, but that's ok – I'm learning as I go. I dropped the VQ in and lined it up with KA mounts. The starter didn't fit because of interference with the truck front suspension.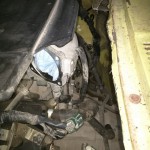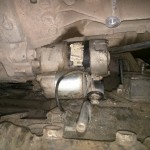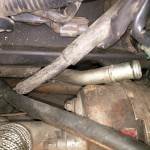 No way in hell is that fitting.
Well, there's an excuse to finish the job that was started before I got the truck. I said screw it – and cut off the entire front of the frame in order to replace it with tube frame and S13 front suspension. Hockey pucks made great transmission and body mounts, and a couple pucks on the factory G35 motor mounts made it sit just right. Here's a few pics of the demolition and re-construction of the front end, and a link to a gallery of the rest of the pics (so you can see all the gnarly carnage):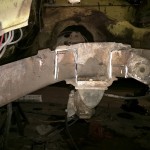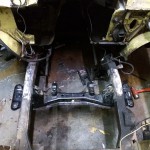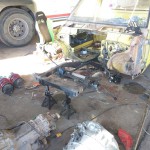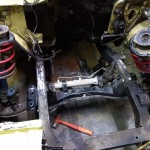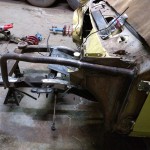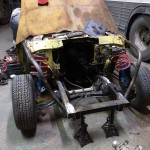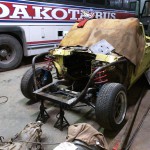 CLICK for gallery of the rest of the front end construction and fitment of the VQ35DE.
The wiring has been the most frustrating part of the project – the part that's pissed me off the most. If I had it to do over again, I'd have paid to have the harness and ECU done properly. As it stands, the ECU needs to be flashed to remove NATS (Nissan anti-theft system). The harness needs to be converted from 350z engine harness (that's dependent on other harnesses) to a standalone harness.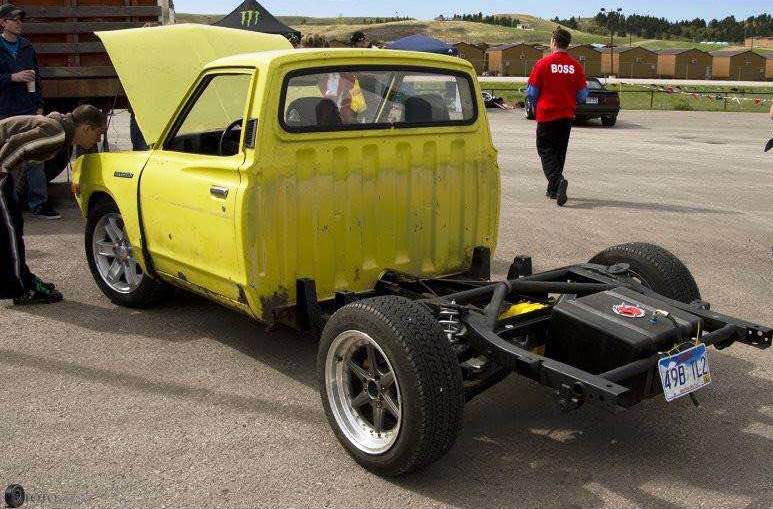 Otherwise, it's coming along better than I'd hoped. Big thanks to Grant and Beaux for helping where they can, and thanks to Andrew for all his help with the front end swap. Tons of hours went into getting it all to work together, and there's still many, many more to go.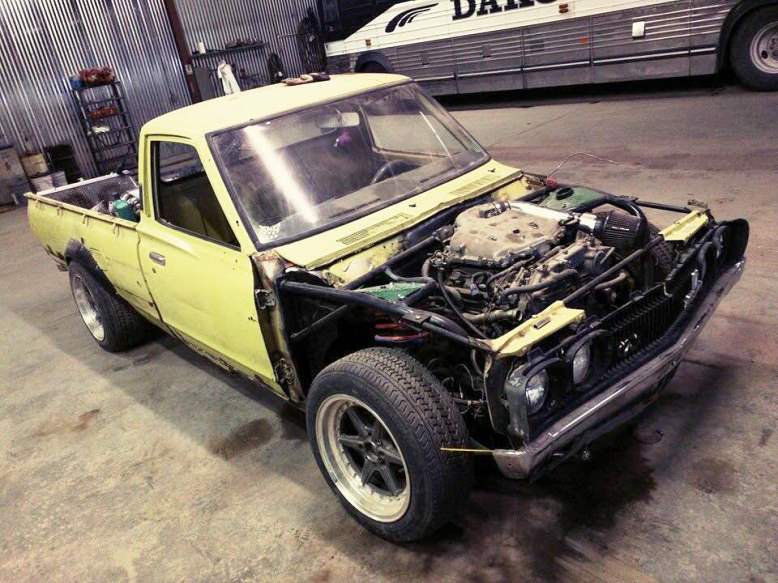 Comments? Hate? Suggestions? Free parts? Check out my thread! The Rat Bastard – VQ35DE-powered Datsun 620