Long before Becky (nissangirl74) and Greg (AZhitman) got married and founded Datsun Ranch, Becky owned a butterscotch-colored 1979 Datsun 210 (along with several other B310-platform cars). This one happened to show up on Facebook Marketplace one night, and I figured it'd be a cool piece of nostalgia for her to enjoy.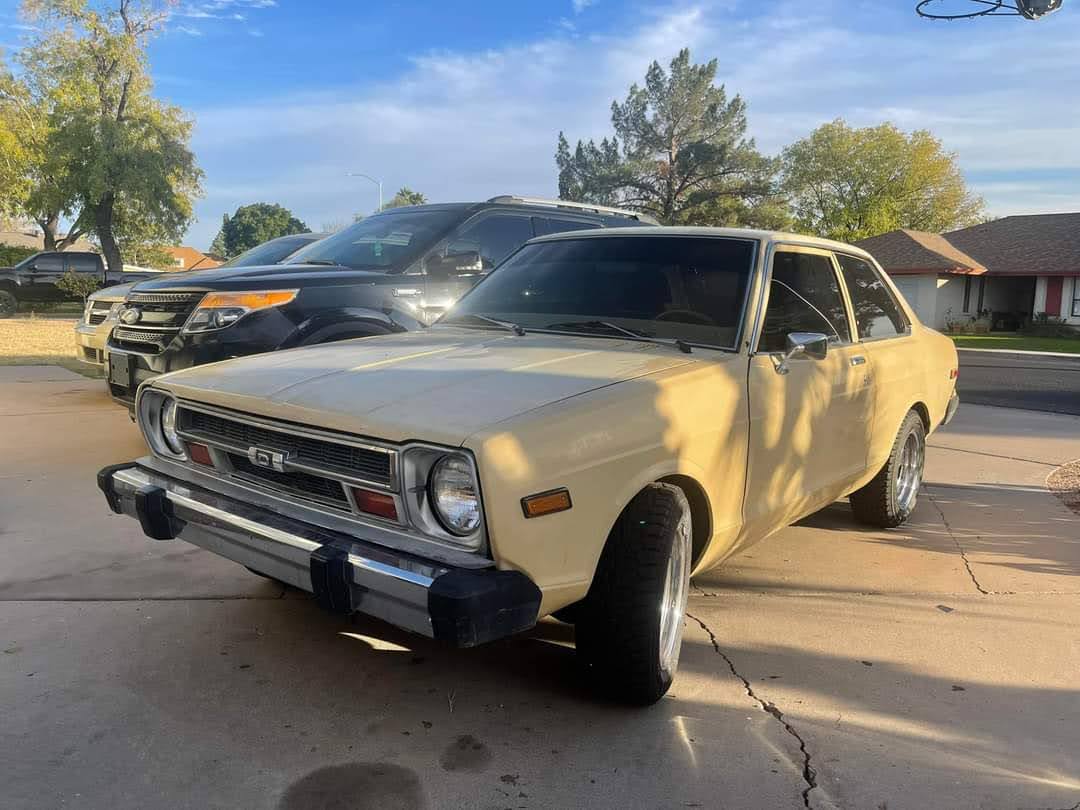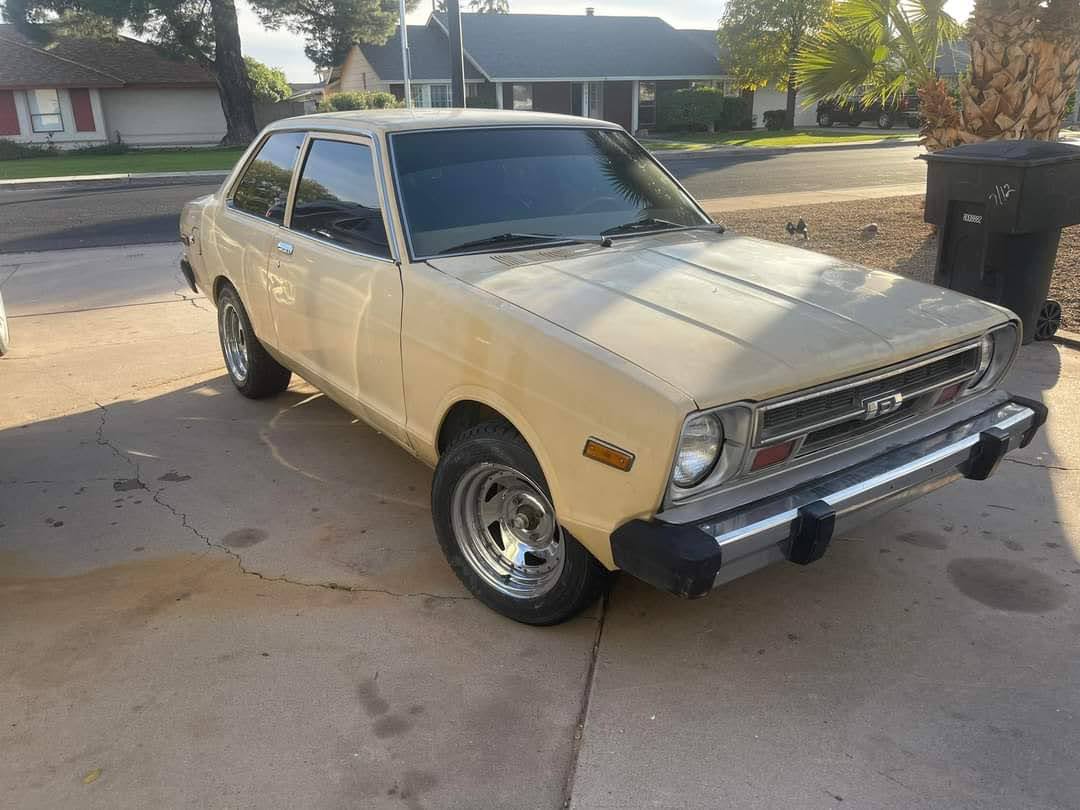 Seller was a super-cool fellow, and the car ran strong. In fact, we stood around in 100* heat, chatting about cars and life, and the little 210 sat there patiently idling the whole time…. no overheating, no leaks – a great candidate for a rolling resto.

Getting it home, the assessment began. The car started its life in Show Low AZ, and appears to have been an AZ car ever since. No perforating corrosion, clean and solid floor pans and rockers, just a little surface corrosion wherever the paint wore thin. Incorrect chrome wheels and some studded ice/snow tires were the first thing to go, to be temporarily replaced with some 13″ steelies.

Second order of business was to refurbish the plastic front grille and do something with the awful park-bench bumpers. Built at their height of cost-cutting measures, the bumpers on these are a thinly-plated channel of steel, capped off with big black plastic end-pieces and supported by gas-charged impact-absorbing cylinders.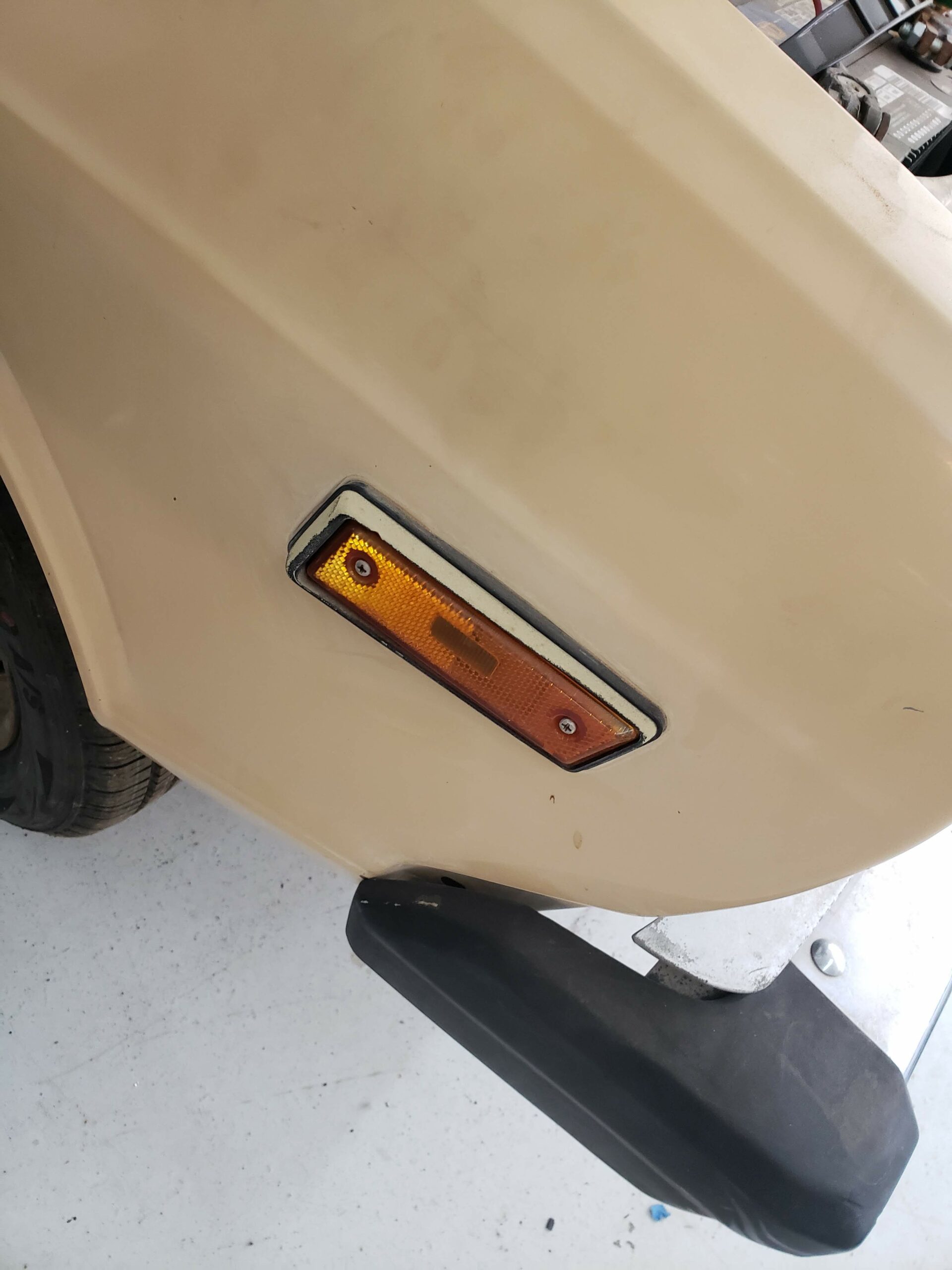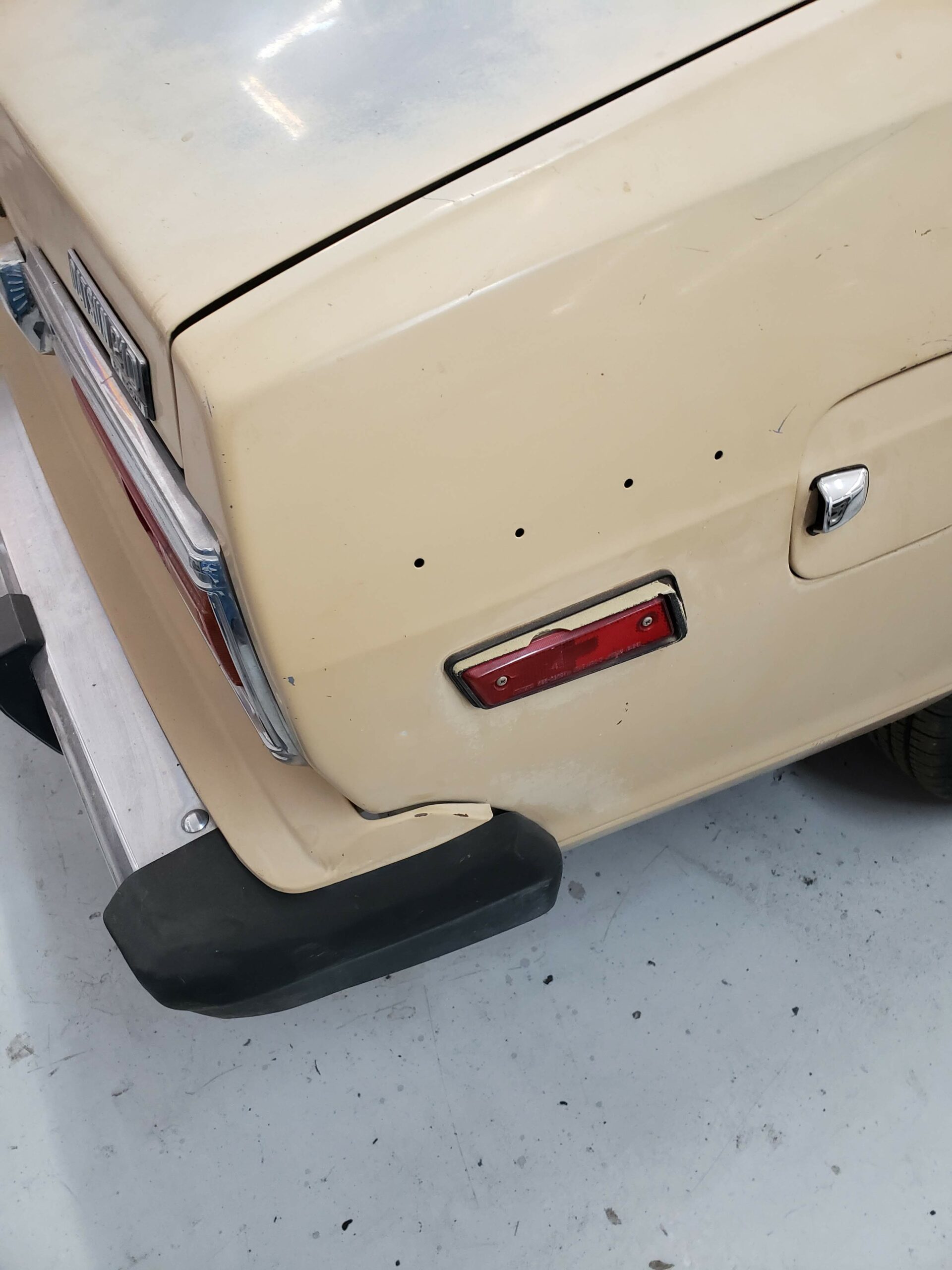 Removing the bumpers allows access to the hydraulic cylinders, which are "sealed" by way of a philips-head screw securing a rubber o-ring. Gently releasing the screw allows the pressurized gas to leak out, and compression of the cylinder shortens the length, tucking the bumpers closer to the body. Ideally, a set of JDM steel bumpers would be preferred, but they're hard to source, and this project is on a tight budget. Bumpers tucked, and some preliminary paint salvation beginning…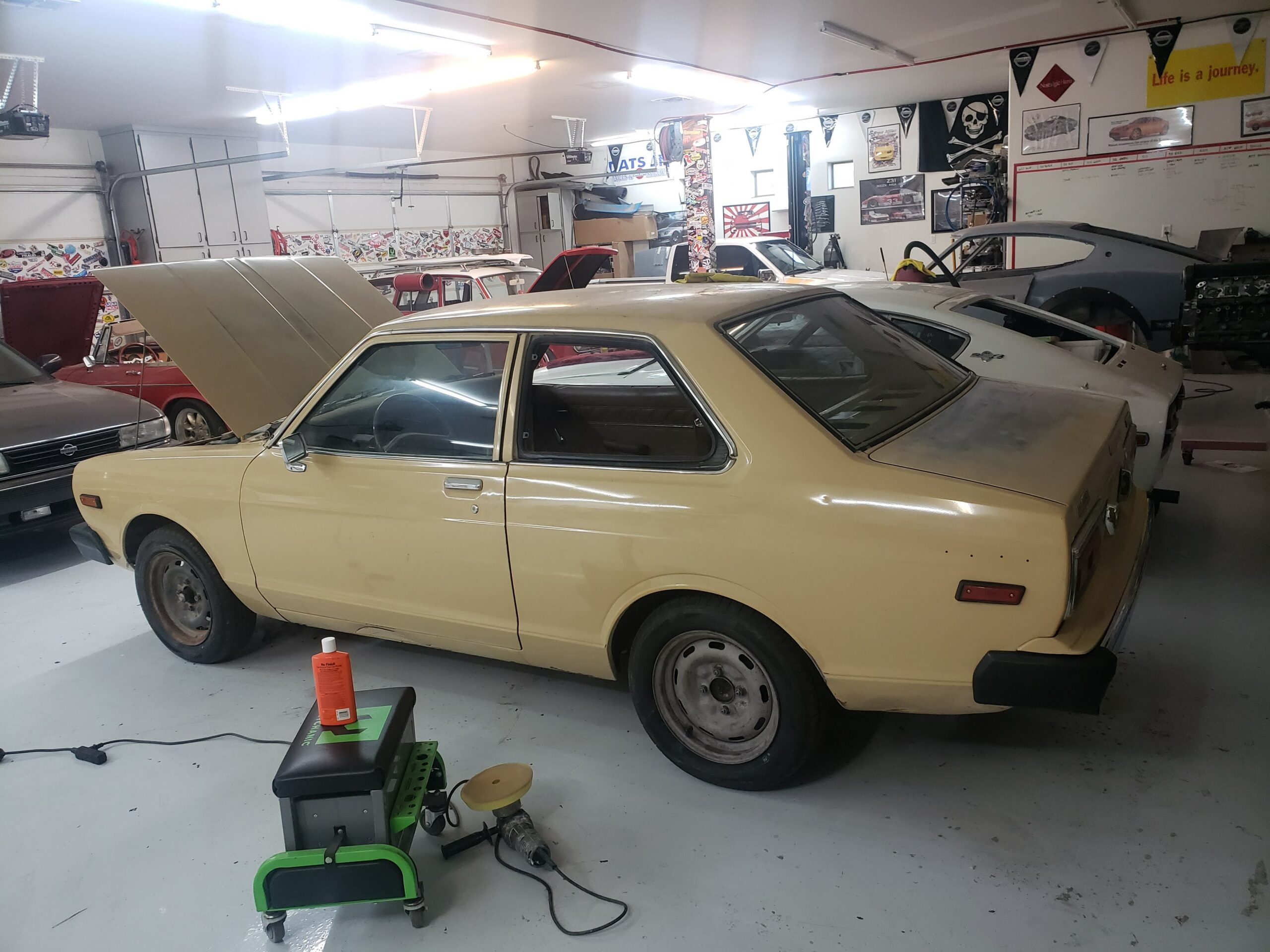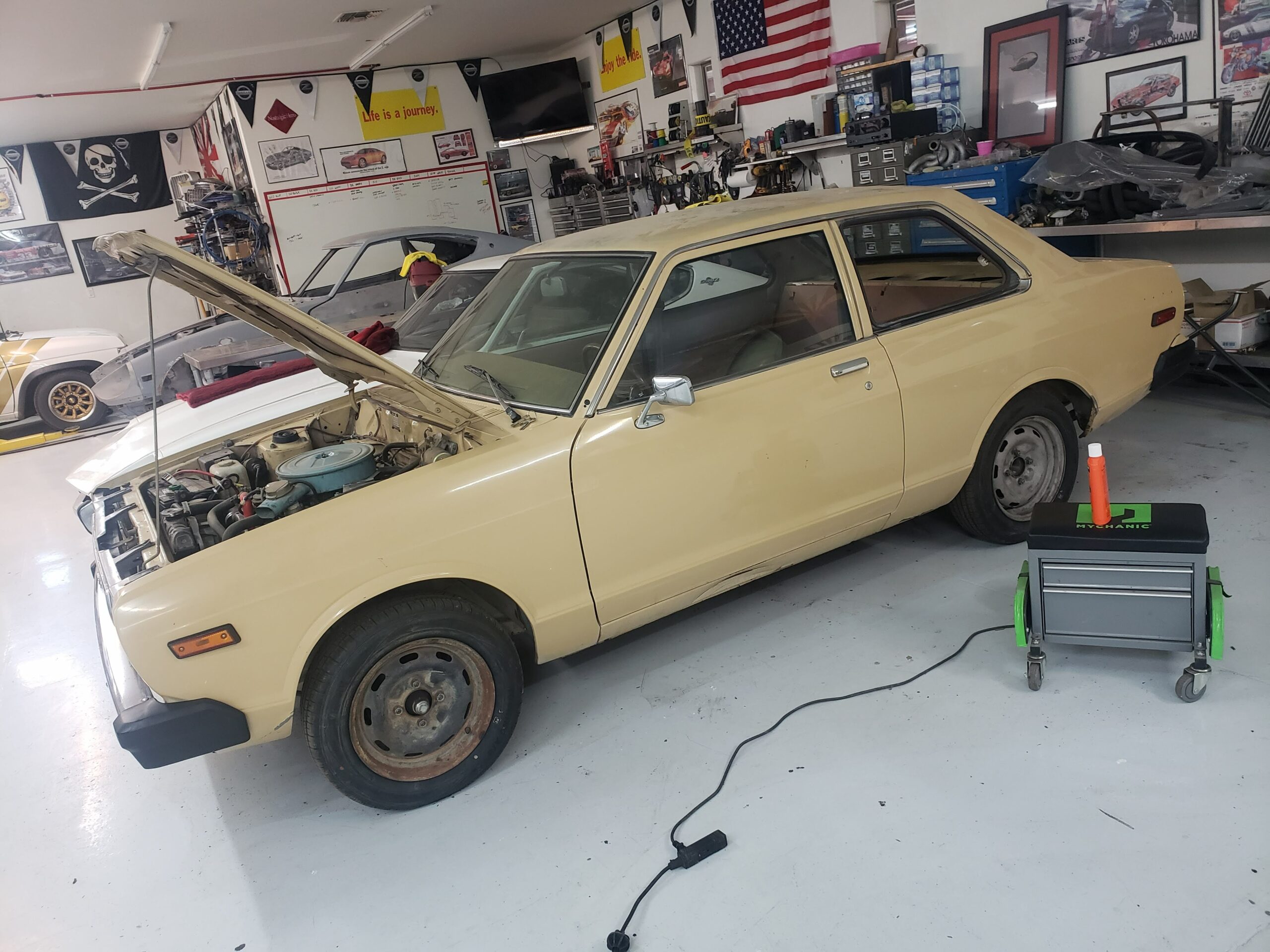 Not much left of the original paint, but thankfully, no one saw fit to repaint it… original paint (even if it's almost gone) is WAY preferable to a shoddy respray, so we'll gradually cut and buff this down to some semblance of gloss – including the upper surfaces, which are showing the original primer and sealant through the ultra-thin paint. She should have a great patina when done! Straightening out the front valance, fender corners, and rehabbing the grille turned out nice: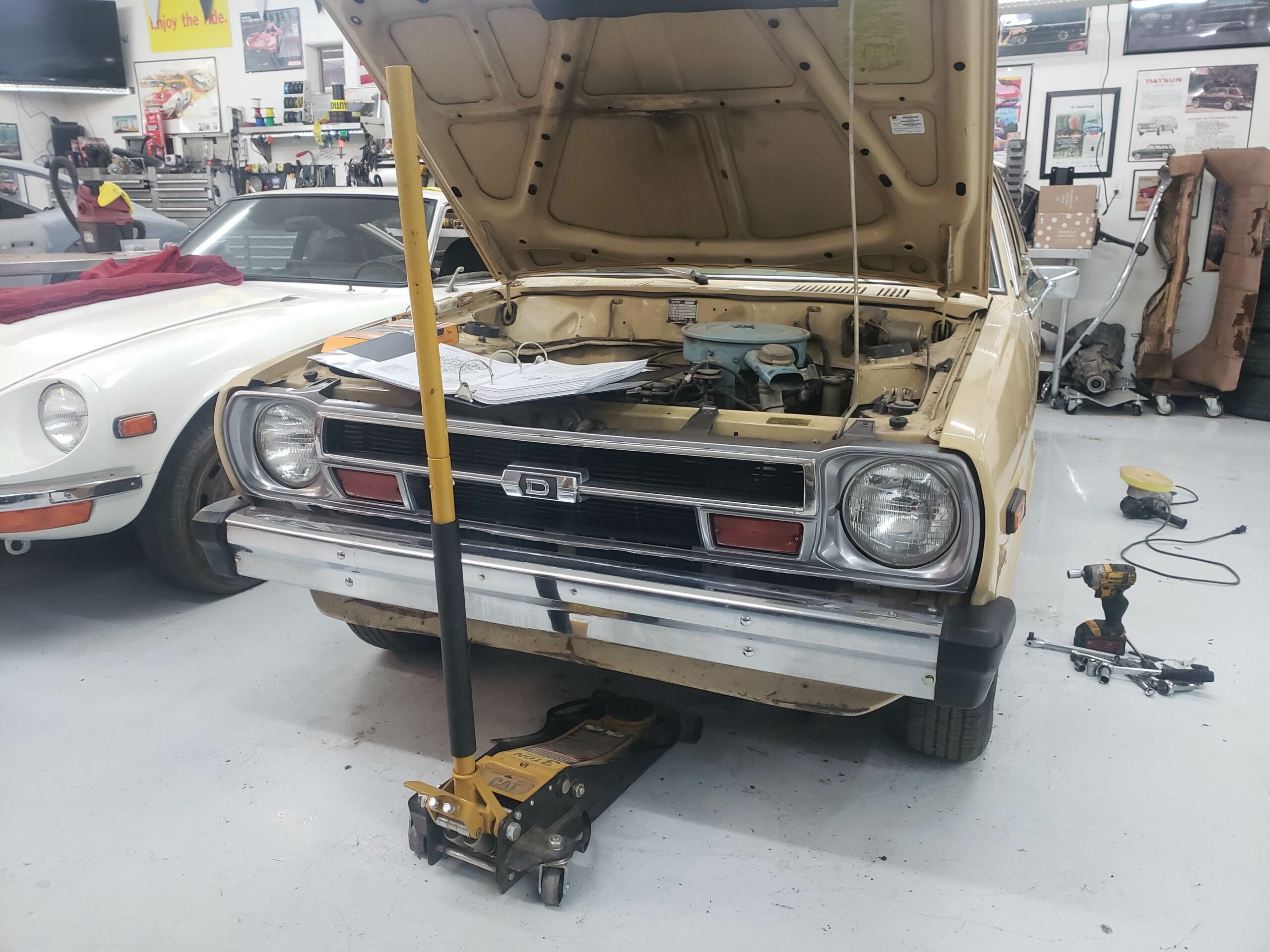 Next order of business, digging into the heat-baked interior. A previous owner had replaced the front bucket seats with some heavy leather thrones from a domestic vehicle, so those went straight to the bin. As you can see, the original vinyl and plastic had turned to something the consistency of a saltine cracker, and the original carpet was hanging onto a good 10 lbs of accumulated debris. Check out those poor seat belt latches – turning to dust!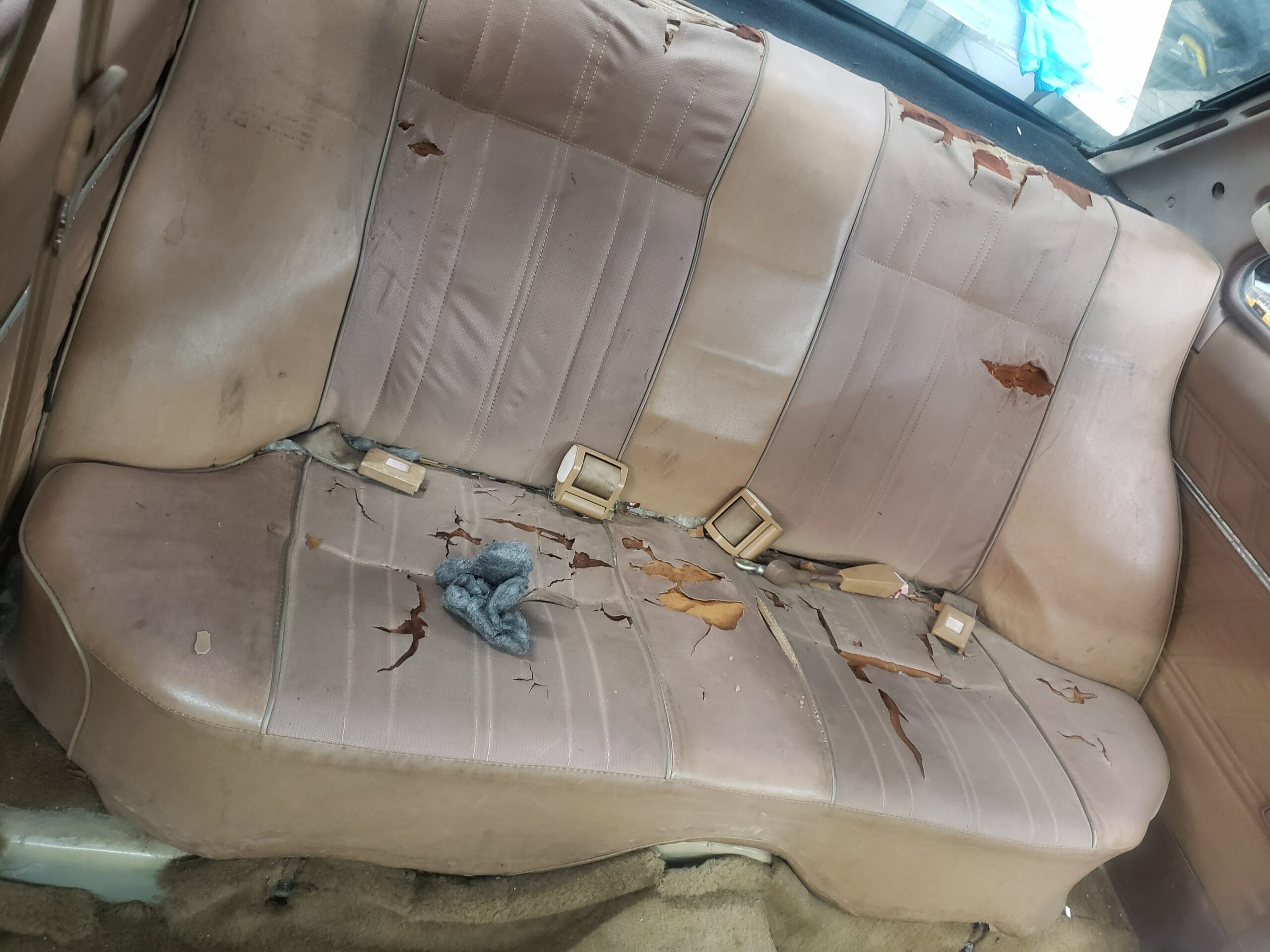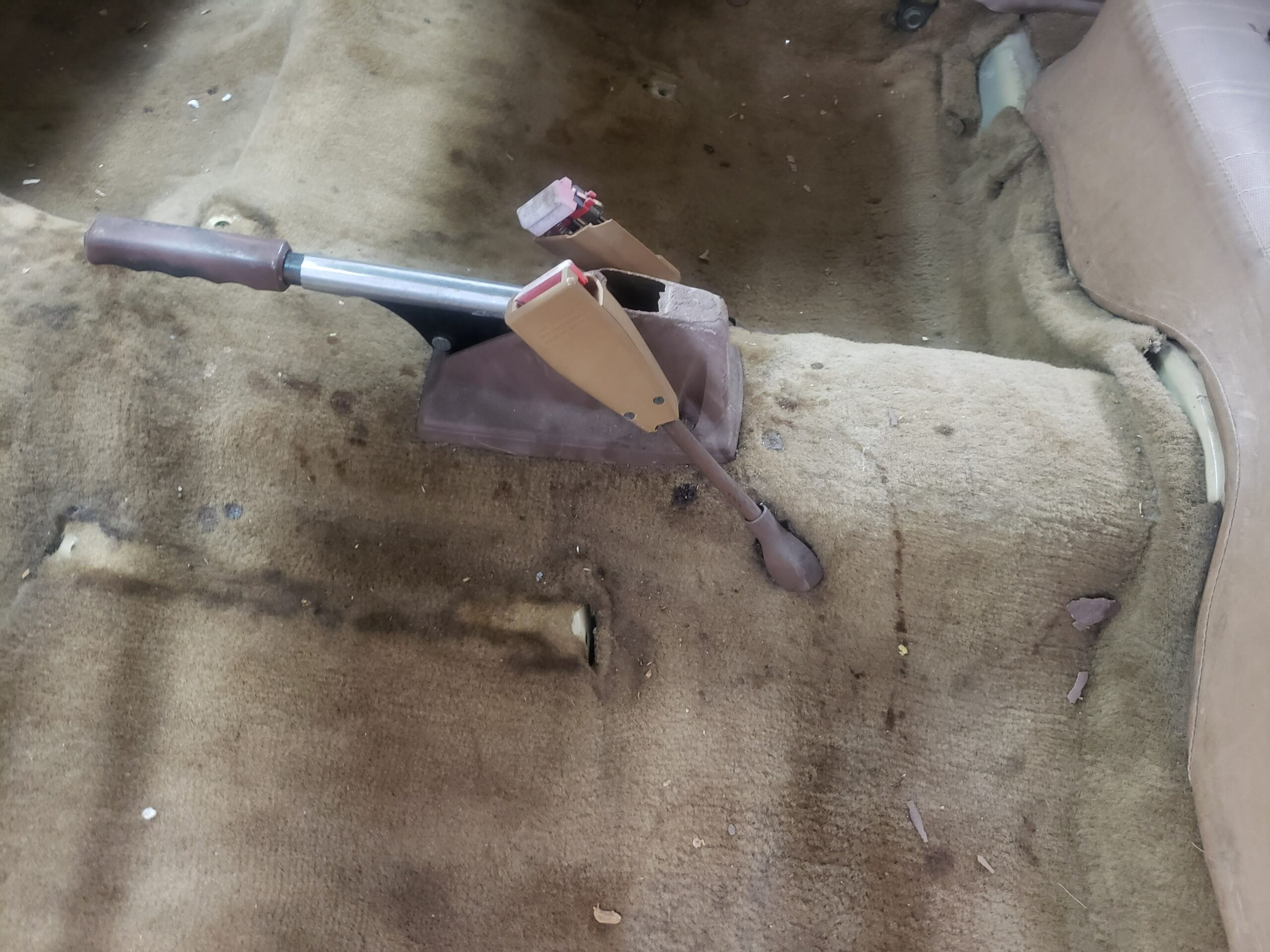 Removing the carpet and seats revealed a pristine floor, and even the factory sound deadening was intact. We'll vacuum out the funk, disinfect the metal and add a few pieces of sound deadening where the factory missed.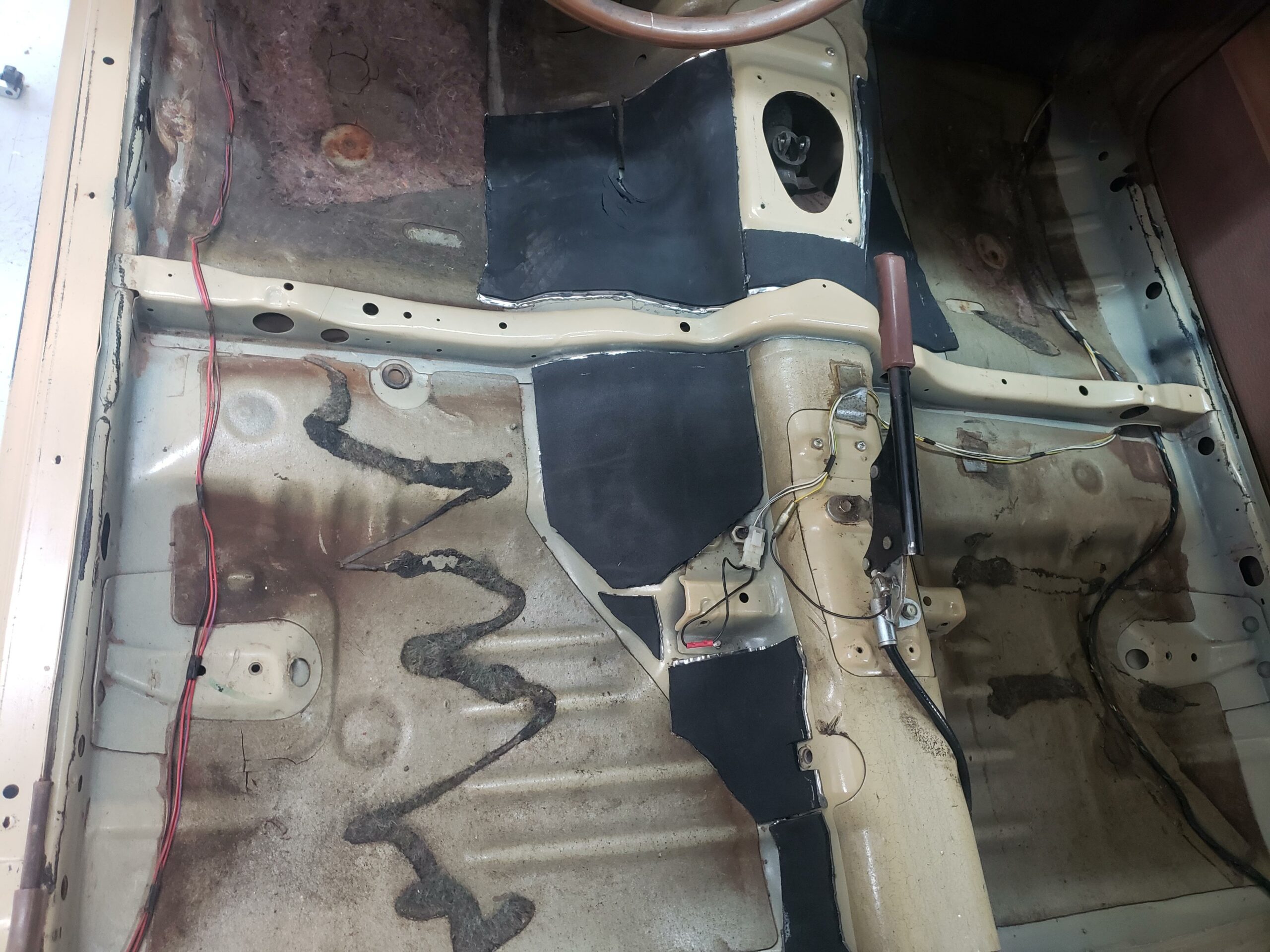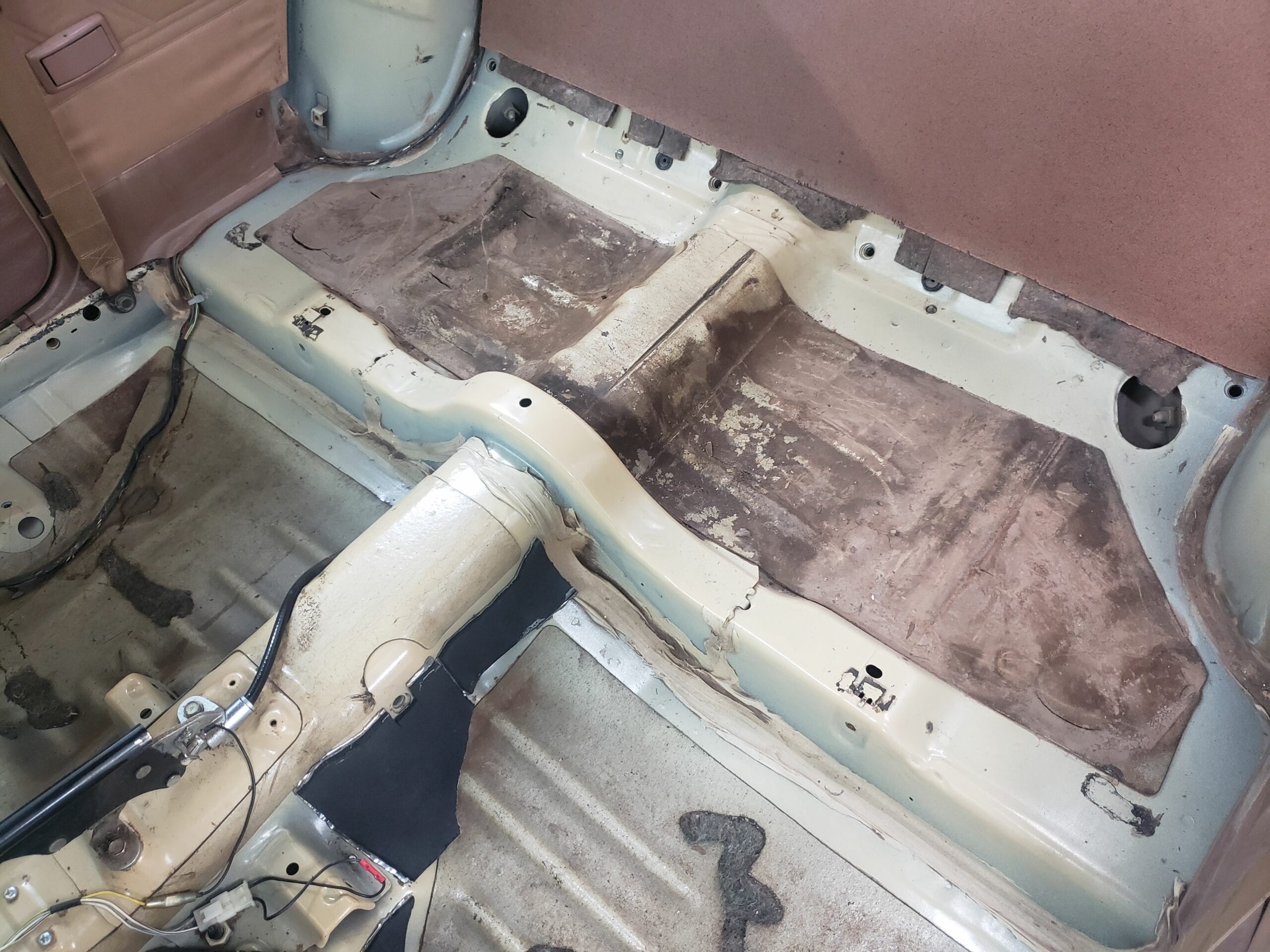 Interestingly, this car didn't have a console or anything surrounding the shifter and e-brake, but check out the condition of the e-brake plastic surround… brittle and crumbly, with an entire chunk missing from the top. We'll deal with this soon, I have a few ideas for this piece.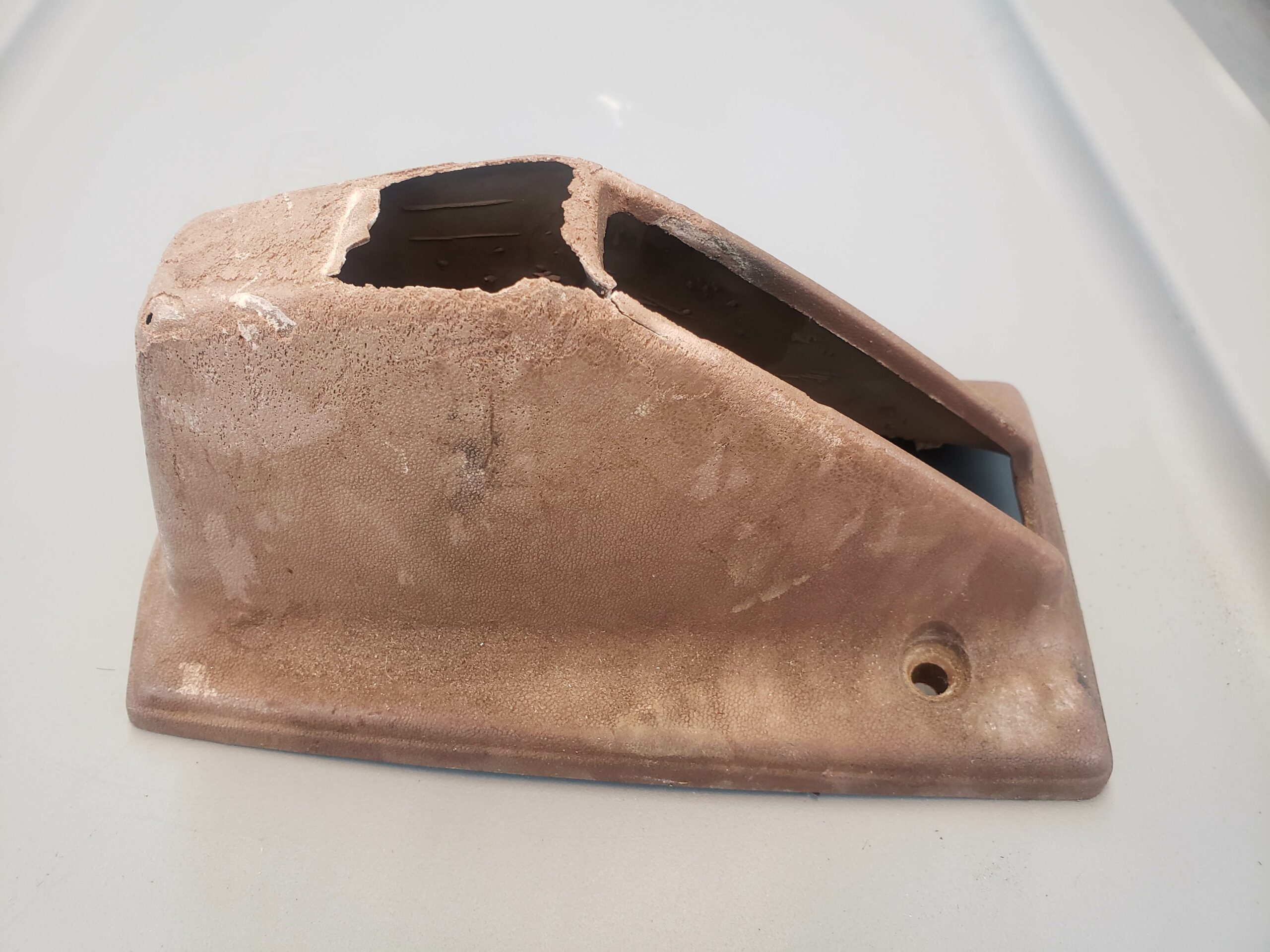 With the interior stripped down, I sourced a pair of original 210 front buckets and hauled them off to the upholstery shop, and ordered a carpet kit from Stock Interiors. In the meantime, I pulled the front and rear shocks and replaced them with some fresh KYB units from RockAuto. While the front struts were out, I shortened the front springs by 3/4 coil in an attempt to minimize the "Carolina Squat."

UPDATE: Here's Part 2 of Datsun 210 Rescue and Rehab!