Special thanks to Cody Busch of Race Tech Connection and Quaife for this article!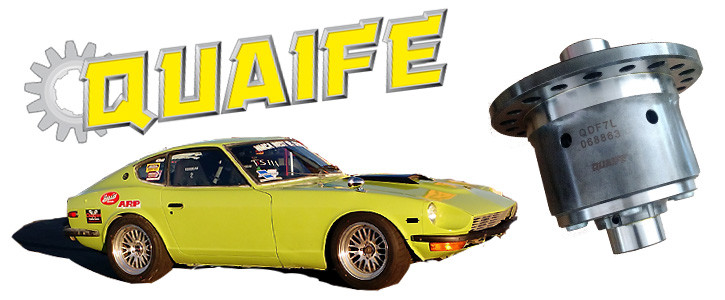 After circuit racing our little small block powered Datsun 260z in the 24 Hours of Lemons in May, and drag racing with the NMCA WEST just two weeks ago, one thing stood out as the biggest issue on the car. Wheelspin! Our warmed over small block Chevy puts out way too much power for one 225mm tire to transmit to the pavement. As a solution to that, we contacted Quaife USA to provide a limited slip differential to tame the little beast we call Detroit Datsun.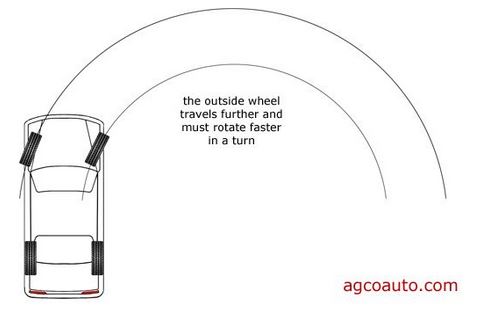 The Problem:
Before getting into the function of our new limited slip differential, it is important that you understand how an open differential works. Looking from the top at a vehicle going around a corner the outside wheels must spin faster and further than the inside wheels.The idea behind a differential is to allow both wheels to spin at different speeds. See the illustration above, or for explanation of any of the technical terms blowing your mind in this article, see our full explanation of commonly misunderstood drivetrain parts here: Drivetrain Basics
Strictly speaking of rear wheel drive cars, the power comes in from a transmission connected to the rear end via a driveshaft. The drive shaft is bolted to the pinion gear and the pinion gear powers the ring gear which is bolted to a carrier. That carrier can be open, locked, or a limited slip (interchangeable with traction lok, suregrip, positraction, etc). Each has its own benefits and drawbacks, but an open differential has the handicap of always powering the easiest to spin wheel. If you are going around a corner that is usually the inside wheel. If you are on snow it is whichever wheel is on the slipperiest surface; the exact opposite of what you would actually want in either situation! This is where an open differential leaves you with a useless spinning tire and no power transfer to the ground, and it is also where a limited slip differential comes in handy. It does exactly what the name implies. It limits the slip of the tire that is easiest to spin!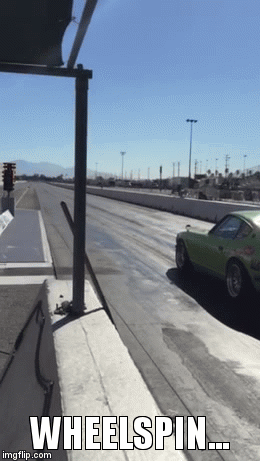 Evidence:
In our Datsun's case, the problem is that around corners and on the dragstrip our small block Chevy has too much power for the one wheel that is receiving the power in low grip situations.
If the vehicle is going to be as quick as possible we are going to have to limit wheelspin in corners and on the dragstrip. Take a look at the right rear tire smoke in that video and you'll see why we needed to contact Quaife. The miles per hour on our timeslips indicate that if we can get both tires to transmit power to the ground, we'll be much faster than the elapsed time indicates.
Our solution to that awesome and ridiculous one wheel wonder burnout is a new Quaife automatic torque biasing (ATB) helical limited slip differential (LSD).
We called upon Quaife for a few reasons. First being the reputation that their products carry. Quaife puts so much quality manufacturing and engineering into one piece of equipment, that the finished product looks like a work of art. All of the machined surfaces, gears and quality of metal are absolute top-notch eye candy. Quaife also offers a type of limited slip that is different from many other brands. You may have heard of a clutch type limited slip and you have probably heard of a Torsen type limited slip. A Quaife ATB differential is a "helical" limited slip.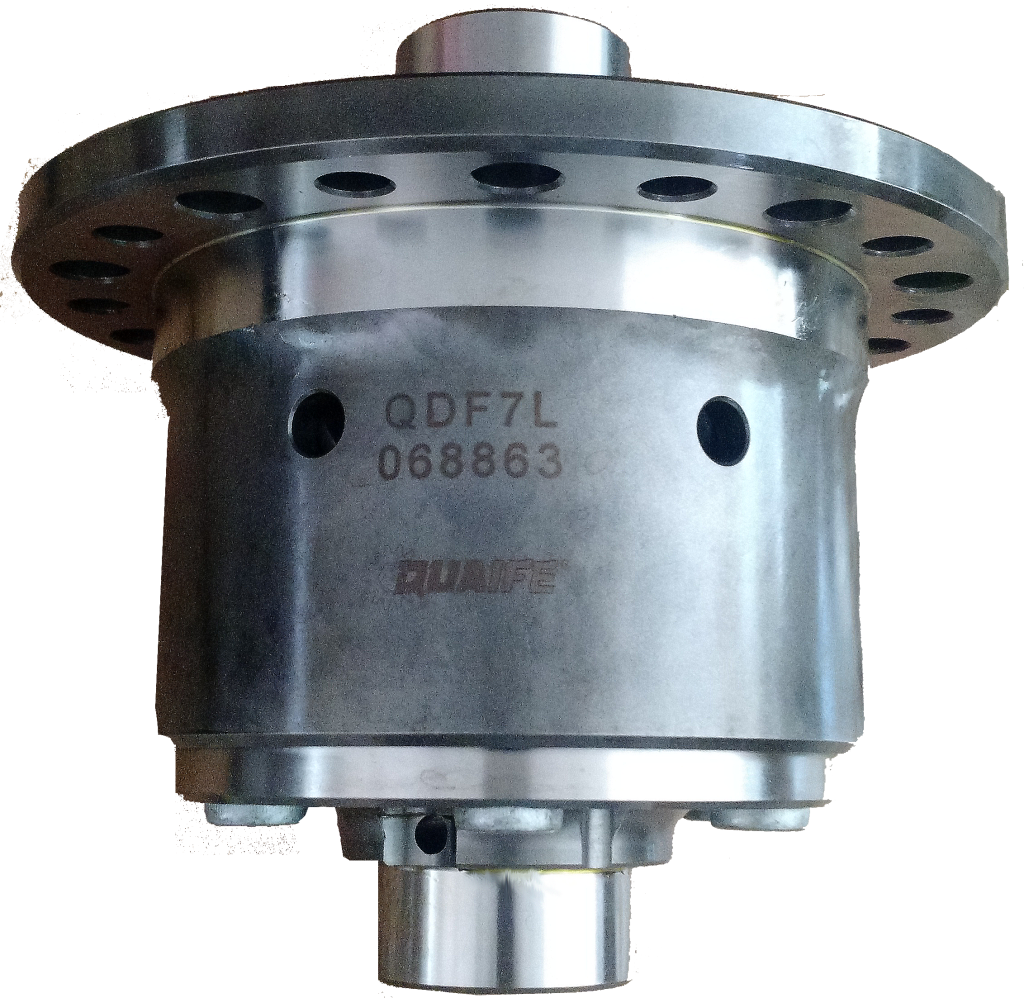 What is that and why is it right for our/your car?
While traditional clutch type limited slip differentials use clutch friction packs that are compressed by the outward forces of gears and the inward forces of high traction tires (once again see our drivetrain explanation), this helical type of differential uses gears. The separation and compression of these gears inside of a machined pocket in the carrier together with side gears connected to the drive axles inside of the differential, automatically biases the power to the higher traction wheel. However, unlike some clutch type limited slips, not all the power is distributed to the higher traction wheel, and the benefit of an open differential being able to corner is still maintained. A gear actuated "helical" LSD also allows for automatic adjustment over different terrains. What that means is that in a rainy road racing environment with puddles etc. the lower traction wheel will not be the only one spinning, allowing for higher grip, better handling, and lower lap times. For drag racing, that translates to letting you lay down down two strips of rubber, like John force at the NHRA Winternationals.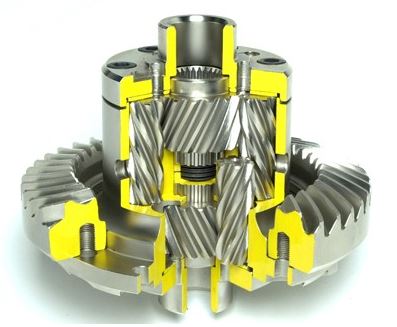 Other benefits of Quaife's helical limited slip design over traditional clutch/Torsen type LSD's, is no extra maintenance, no unique lubrication needs (i.e. friction modifier), and no wearable parts that will need to be replaced. It is smooth and quiet, and requires no break in period!
Why Quaife?
Since 1965 Quaife has been manufacturing the highest quality transmission and drivetrain components in the world. Through constant innovation, and improvement of quality and precision, they have found themselves as a worldwide leader in racing drivetrain components. All of the elements that go into manufacturing any of their products are sourced from the UK, and all of their ATB limited slip differentials are backed by a limited lifetime warranty. With Quaife's Products enjoying success in Formula 1, rally, circuit racing, and rallycross racing worldwide, you can truly rely on them for quality and performance. They have applications for over 950 different vehicles just on the limited slip line of products.
Just as an example of their excellence in manufacturing, the following pic shows one of the Quaife differentials side gears (on the right) compared with a competitor's gear (on the left) both for the same vehicle. The Quaife gear shows little to no sign of wear, no metal porosity, and an overall beefier design.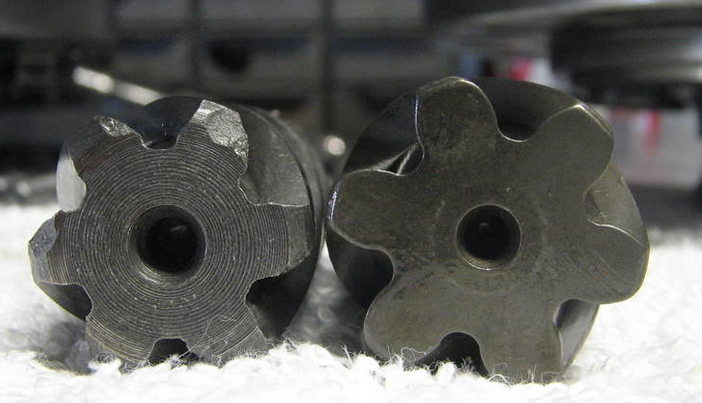 Quaife has an in-house group of engineers and performance specialists constantly improving their already amazing products. Trust us, just holding one of the products in your hand you can feel the quality of workmanship. They're on the cutting edge of computer aided manufacturing, and they feature in-house CNC machines in the creation and inspection of their products. What that means for you is the greatest quality products the first time, with a warranty and history to back it up! There is no corner cut and no steps skipped in creating any Quaife product. Their mission is simple, to continue to deliver the highest quality drivetrain components without any compromise. For more information, see their website via the link below, or contact one of their retailers.
The Next Steps:
Our new mission is simple as well! We will be installing this beauty into the rear end, then testing the difference it has made at the next NMCA WEST Drag racing event to truly show you the difference that a Quaife ATB limited slip can make for your car! Hopefully improving upon our best timeslip of 14.2 seconds at 101 MPH.
Along the way, we'll walk you through how simple installing a limited slip is, and give you some feedback from our ride's new toy.
Thanks again to Quaife USA!
(855) 417-4300
[email protected]
http://www.quaifeamerica.com/