Lot #172 represents what we've all expected to happen at one of the big auction houses all along… An early S30 restoration pulling a ridiculously-awesome premium, despite some misgivings.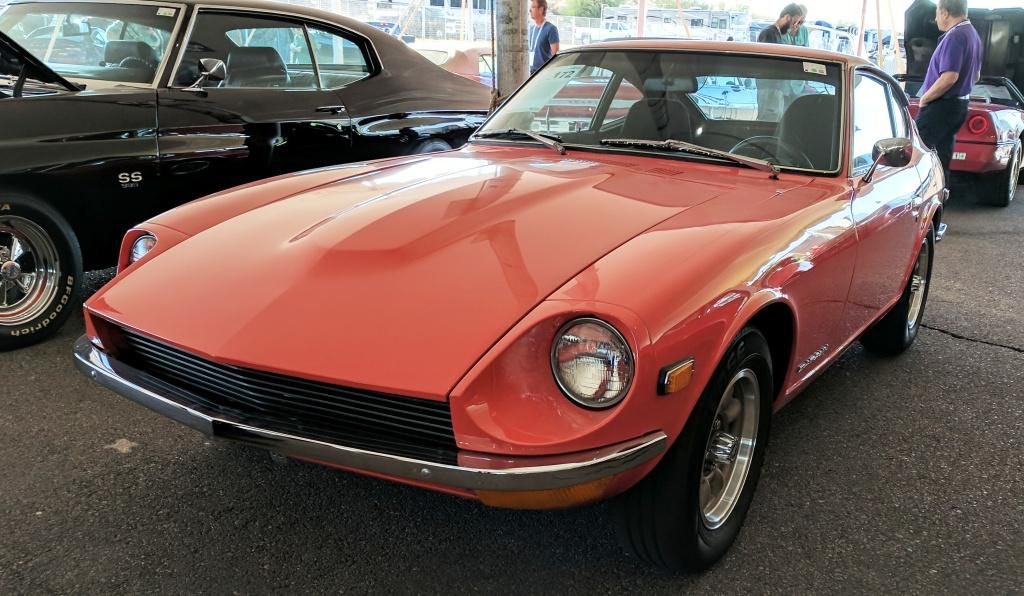 According to the auction placard, this 1972 240Z underwent a recent restoration. "Driven 1,100 miles since restoration of original L24 engine, other mechanicals, rubber, trim, bumpers and interior. 4-speed manual transmission. Color matches factory original. Always garaged, never a daily driver."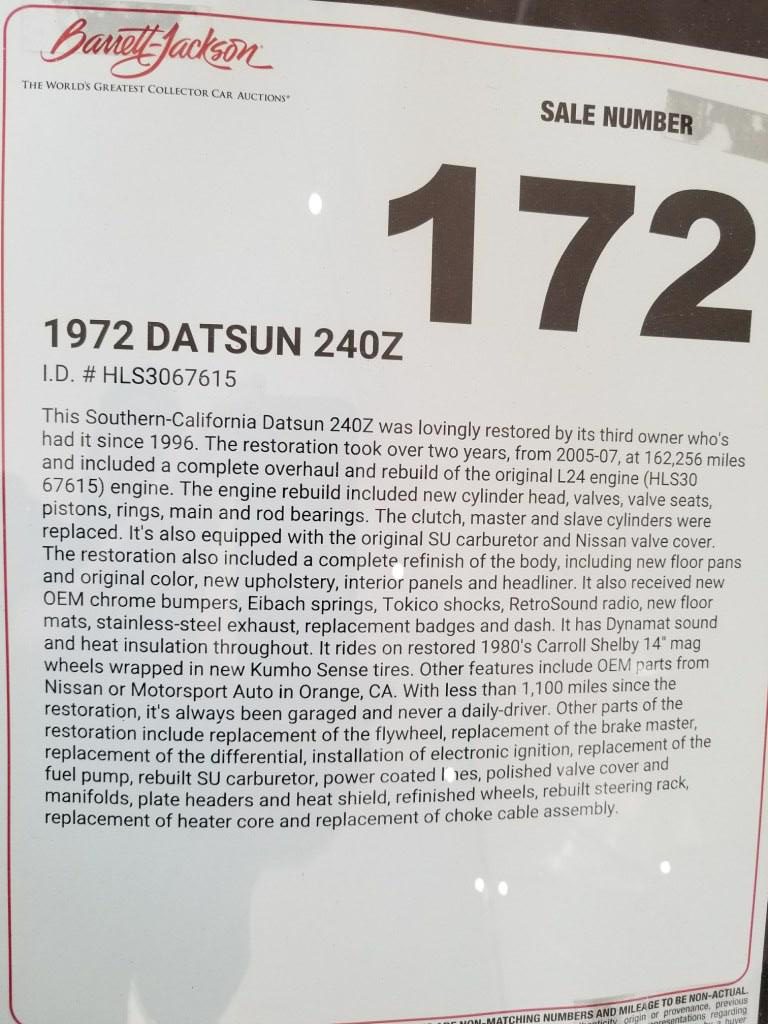 Click to view: Lot # 172, 1972 Datsun 240Z
Starting with a southern California example with over 162k miles, this restoration lists all of the parts replaced – which, to be fair, are all items that SHOULD be done on a proper Z restoration. "Replaced floor pans" would have raised a red flag for me… as someone who's owned numerous southwestern S30s, a rust-free Z shouldn't need floor pan replacement – but who knows, maybe they were dented.
The restorer can be forgiven the lowering springs and RetroSound radio – these are common upgrades, and shouldn't diminish the value.
However, although the auction report lists a "replacement dash," this car clearly wears a simple $100 plastic dash overlay. Inexcusable for a true restoration, as reproduction dashes are now readily available at Vintage Dashes for well under a grand. Lacking the beautiful original factory steering wheel is, likewise, inexcusable for an alleged "restoration."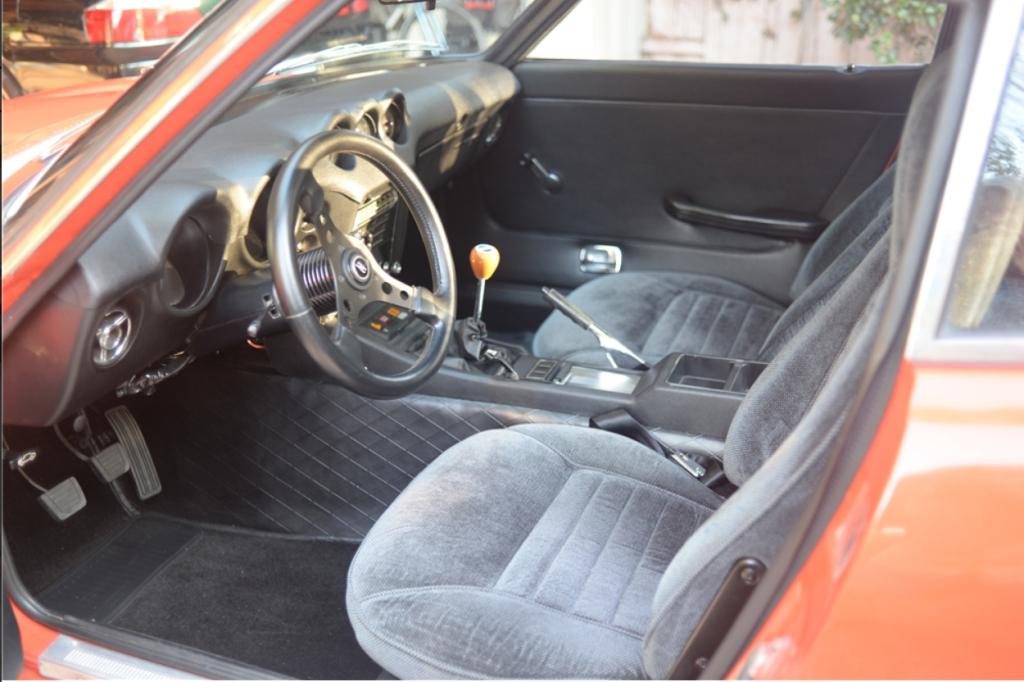 Incorrect seat fabric is a huge turn-off, but easily remedied by the next owner. The rest of the interior presented well, with fresh diamond-patterned vinyl and intact console, carpet mats, and door panels. You'll have to excuse my noticing the door panels and door pulls are devoid of the factory brightwork. It's a minor detail, but again, for the money this car commanded, those items should be expected to be correct. Fresh pedal pads and fresh rubber weatherstripping are always noticeable details – good job by the restorer.
Aftermarket wheels are simply a matter of taste, but correct steelies with restored factory hubcaps would have been a lot more impressive. I'd deduct points all day for the bargain-basement tires… At this point in our review, the concerns are growing, and the picture of a not-quite-professional restoration was coming into focus.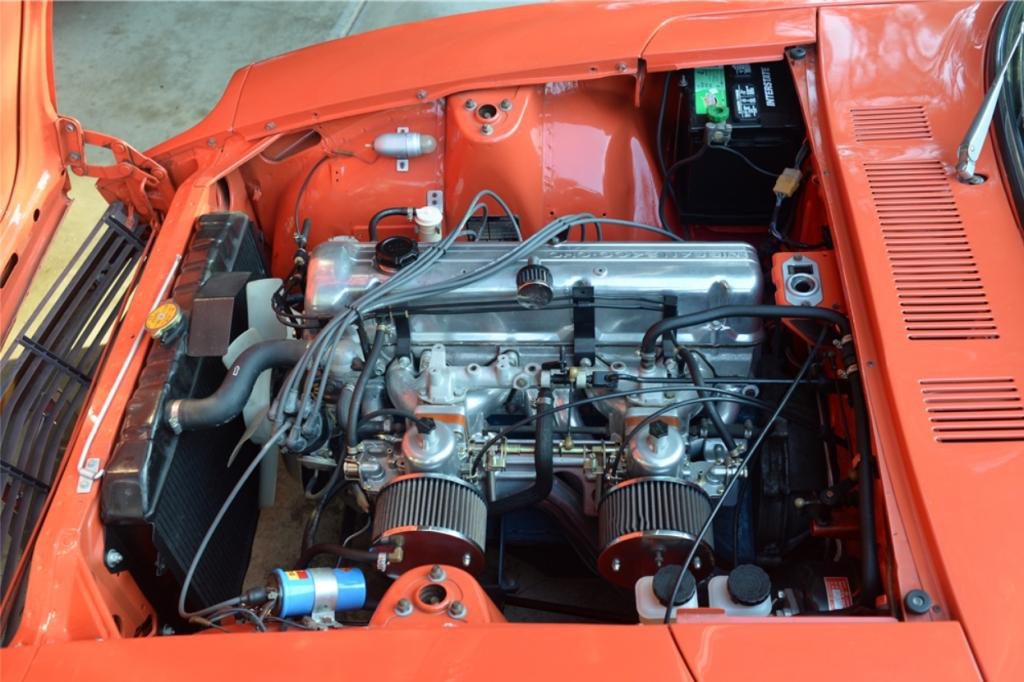 A review of the engine bay revealed impressive attention to detail in some areas, and overall laziness in others. Kudos for clean hardware, correct radiator cap, and rebuilt SU carburetors. However, the missing OEM air cleaner and belly pan, coupled with painted linkage and fuel rail, as well as missing manifold hardware, missing plug wire brackets, and deleted PCV system, are totally avoidable screwups. Oh, and if you're going to use an aftermarket coil, take a few minutes and paint it black.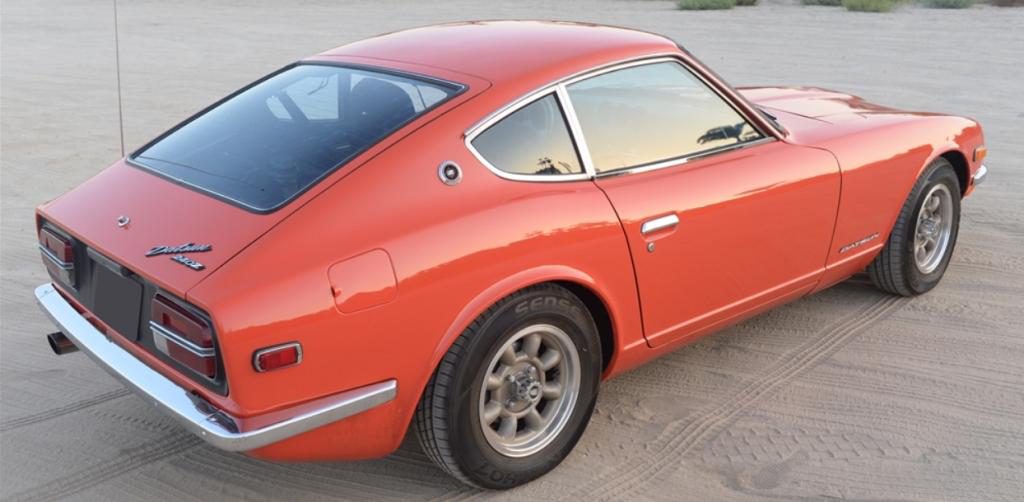 The bodywork and paint finish were quite nice – Although there's no way of knowing what lurks beneath the utterly-smooth panels, let's assume for a minute that the car started off straight and dry… Okay, ignoring the floor pan replacement won't allow us that fantasy. Regardless, someone took the time to make sure this car presented well from the outside, and the 918 Orange paint (no, it wasn't called Persimmon in '72) was straight and glossy. A few maladjusted body panels tweaked the edge finish in a couple areas, causing me and nissangirl74 to cringe, but a Z that's used properly (i.e. driven) is going to get some chips and scratches. Although the bumpers are described as "OEM replacements," these were stainless aftermarket reproductions – and I'd argue they're a great addition to this resto.
So, what's an early S30 restoration go for these days? Well, it depends on the market, and this one was generous. In fact, so generous, that I'm stepping up my timeline to finish the Lime Yellow '73 I'm currently restoring.
Hold onto your wood shift knob: This one kicked up Z cars worldwide with a hammer price of $40,700.00!
Is it all downhill from here? Maybe, maybe not – there are two more Datsuns to see at the auction!
The fifth Datsun at Barrett-Jackson this year: Datsun at Barrett-Jackson Lot #317 – 1980 280ZX