Sunday morning at 7 am, I was headed back to John's shop in Scottsdale, this time to get the front fenders and the IMSA G-nose installed. Again, lots of trimming, sanding, and fitting for a good fitment. The fiberglass parts aren't perfect, as they're made for race cars who don't care about fitment. We just cut away enough to get it close, and I will need to do all the detail work on my own at home now.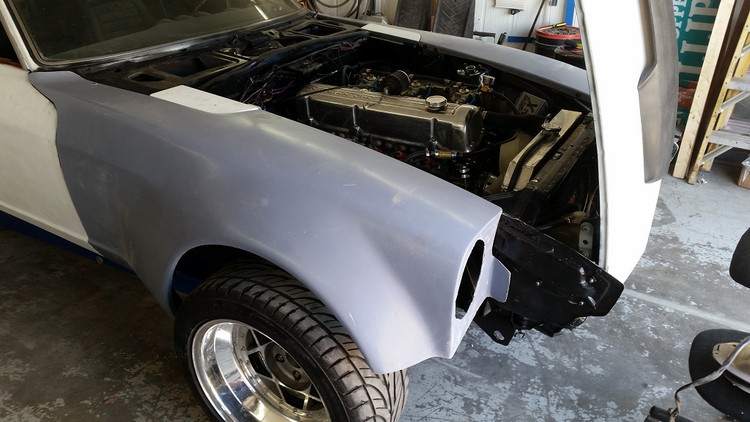 The biggest challenge we had was getting the headlights mounted. John had never mounted these pieces before, because he had never had a request for it. So this was all new territory. The issue was to make sure the headlight was mounted in the center of the fender as well as on the headlight bucket on the G-nose. It took several hours to get this down right with lots of measuring and fitment testing again. As you can see, the stock hinges were converted to work with a G-nose front end. The stock 280Z turn signal lights also had to be removed.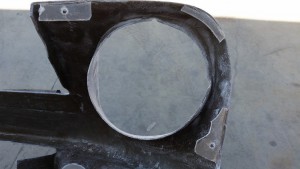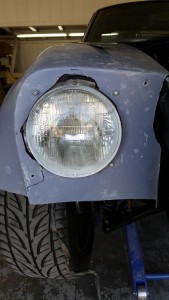 Finally… everything came together, and we bolted it all up.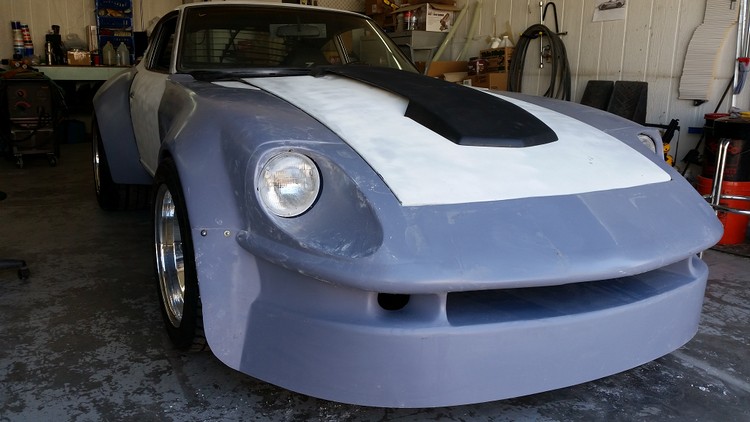 The front lip measures 5.5″ off the ground. We would need to do some more testing with the front wheels now, and this is where we ran into another issue. That spacer is causing problems again, pushing the wheel out too far. I was not able to turn the wheel very far without it hitting the fenders. We thought about trimming the fenders, but I'll just have to get the front hubs converted like I did on the rears. So I made a call to my wife, who brought me out my old 16×8 XXRs and they were put on instead. I was able to drive home on those without any issues.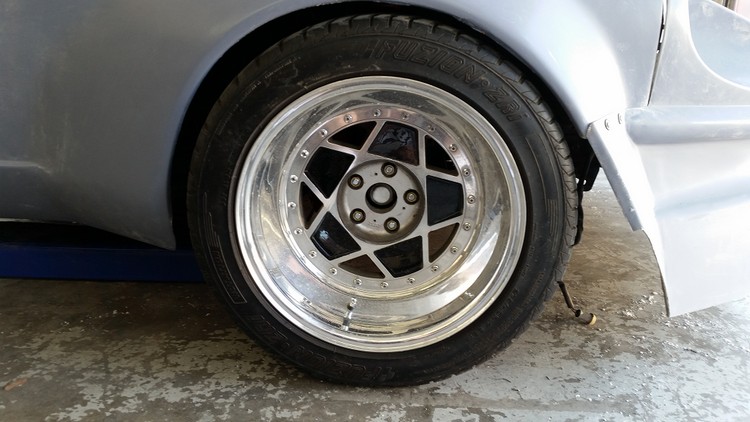 At this point, there is still a lot to be done: Front hubs with 5 lug conversion, more body work, paint, and I have to put the interior all back together again. We took everything out of the interior during the welding so we could watch for fires. It's not done by a long shot, but it's close enough to where I can drive it again, and have some fun with it in the meantime.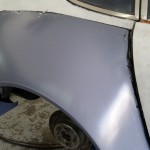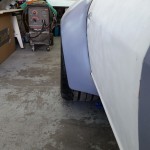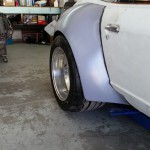 Planning ahead was definitely not optimal, especially with the wheels. I spent a lot, but learned a lot along the way. Such is life when you start hot rodding and going outside the boundaries of what's considered "normal" off-the-shelf parts. The flares were sold as well as the front air dam to help pay down some of the added cost. The $400 hub adapters might wind up as expensive paperweights, unless someone wants to buy them down the line.
In the next episode, we'll pause and assess where the car stands now, and plan for the rest of the restoration / modification.
Questions about this build? Comments? Discussion here: Widebody 280Z discussion