This has been in the works for quite some time, and I'm happy to say we finally got it put together.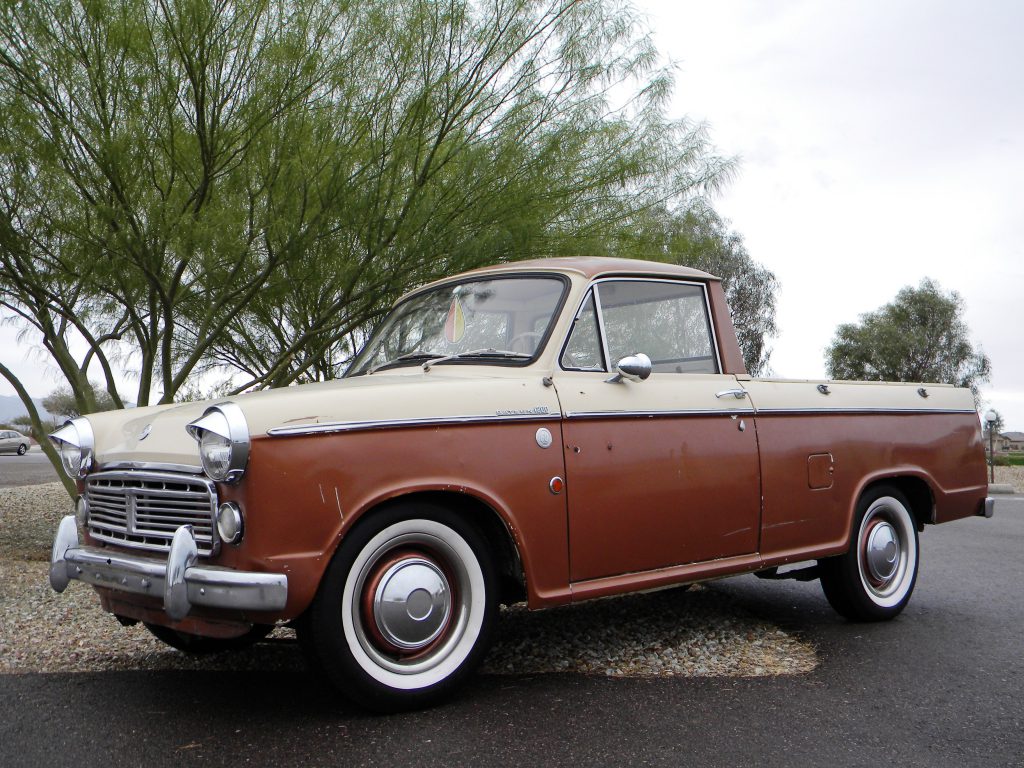 For those of you who have not yet entered your vehicle's information, you can do so here:
Enter Your Datsun 320 in the Registry!
If you'd like to edit, update, or change the information that's contained herein, please drop an email to [email protected] (or click the link above) and we'll get it done.
For those of you already listed, thanks for participating – This registry brings us one step closer to getting the remaining 320's in the US designated as true collectibles.
| Model | Year | VIN # | Engine# | Owner | Screen name | Location | Color | Comments |
| --- | --- | --- | --- | --- | --- | --- | --- | --- |
| U320 | 1962 | U320-264415 | 152173 | Wayne Leuth | waynosworld | OR | Red | |
| V320 | 1962 | L320-280118 | | | HJDM | Melrose Park, IL | | Owned by Heritage JDM |
| L320 | 1963 | L320-01275 | | Andy | my1969l521 | | | |
| L320 | 1963 | L320-302503 B | | C. Ellis | cellis805 | Marietta, GA | | |
| L320 | 1963 | 4-L320-00191 | | Ginny | | Denver CO | Blue | Scrapped 2020 |
| NL320 | 1963 | L320-60420 C | | Rick Diaz | | Mesa, AZ | Bamboo | Formerly owned by Mike Young, Audrey Welch, Greg Childs |
| L320 | 1963 | L320-300503 | | Roger | AAroger | | | |
| L320 | 1963 | L320-200237 | | | | College Place, WA | Green | Restored, formerly in Portland |
| L320 | 1963 | L320-200524 | 115010 | | deerio | Seattle, WA | Bamboo | |
| L320 | 1963 | L320-201752 | | | Gordon1 | Indiana | | |
| L320 | 1963 | L320-300001 | 186106 | | Mokadeth | PA | | |
| L320 | 1963 | L320-300322 | none | | Atabale | South Africa | Green | |
| L320 | 1963 | L320-300363 | | | Wildeman | WA | | [email protected] |
| L320 | 1963 | L320-300487 | | | | Annapolis MD | Red | |
| L320 | 1963 | L320-301108 | 237073 | | abilityL320 | | | |
| L320 | 1963 | L320-301174 | | | | | | Spotted in Bakersfield, CA |
| L320 | 1963 | L320-301787 | | | daddyoethan | | | Modified frame and engine |
| L320 | 1963 | L320-302023 B | | | gtirguy | NM | | |
| L320 | 1963 | L320-302195 B | | | 63320 | | Flat black | |
| L320 | 1963 | L320-302233 | 300771 | | | OR | Blue | |
| L320 | 1963 | L320-317429 | 245023 | | Atabale | South Africa | Green | |
| NL320 | 1963 | L320-360224 | | | whosdatsun | | | |
| NL320 | 1963 | NL320-302218 | | | | Las Vegas NV | Red | On later 4x4 frame, V6 |
| NL320 | 1963 | NL320-360003 | | | | Tacoma WA | | |
| NL320 | 1963 | NL320-360008 B | | | neatpetes63 | | | |
| NL320 | 1963 | NL320-360036 | 385403 | | | Chula Vista CA | White | |
| NL320 | 1963 | NL320-360171 | | | HJDM | Melrose Park, IL | | Owned by Heritage JDM |
| NL320 | 1963 | NL320-360449 C | | | dbasdan | | | |
| N320 | 1964 | N320-603802 | 546611 | Adrian Diehm | | Ipswich, QLD | | originally light blue, now orange |
| NL320 | 1964 | 4-L320-60534 D | | David Boerst | davidboerst | Globe, AZ | | |
| L320 | 1964 | 4-L320-01469 | | Duncan Imports | | Smyrna TN | Aqua | On ebay as of Jul 2020 |
| NL320 | 1964 | NL320-460209 C | | Greg Childs | Azhitman | Surprise, AZ | Bamboo | Formerly owned by Douglas Klauck |
| L320 | 1964 | 4-L320-01717 | | Lester | lester | | | |
| NL320 | 1964 | 4-L320-60574 | 391672 | Ron C | rsc550 | Pleasant Hill, CA | Red | |
| L320 | 1964 | L320-302442 C | | Roy | Roys320 | Belmont, NH | Grey | Previously owned By Ron Dickson of Williams AZ |
| NL320 | 1964 | 4-L320-60493 | | Scott Schartz | | Rodeo, NM | | |
| L320 | 1964 | 4-L320-00727 | | Stephen Blakeney | IMH | | Red | |
| NL320 | 1964 | 4-L320-60125 C | | Steve DiFrangia | difrangia | OK | Red | |
| NL320 | 1964 | 4-L320-01883 | | Wayne H | wayneh43 | Caldwell, ID | | |
| NL320 | 1964 | 4-L320-60474 | 379550 | Wayne Leuth | waynosworld | OR | Red/black | |
| L320 | 1964 | L320-300182 | 192646 | Wayne Leuth | waynosworld | OR | Bamboo | |
| L320 | 1964 | L320-040720 | | Wick Humble | Wick Humble | | | Cab and bed only |
| L320 | 1964 | 4-L320-00217 | | | BShot13 | | | |
| L320 | 1964 | 4-L320-01137 | 366009 | | | Moreno Valley, CA | Red | |
| L320 | 1964 | 4-L320-02226 | 411559 | | | OR | Blue | |
| L320 | 1964 | 4-L320-02234 | | | LKPar1270 | | | |
| L320 | 1964 | 4-L320-02258 | | | Parking Space | | | |
| L320 | 1964 | 4-L320-03042 | | | nukeday | | White | |
| L320 | 1964 | 4-L320-03301 | | | layedoutb2k | | | |
| L320 | 1964 | 4-L320-03848 | 485061 | | charliej13 | Lebanon, OR | Red | |
| L320 | 1964 | 4-L320-03848 | 485061 | | | OR | Maroon | |
| L320 | 1964 | 4-L320-03900 C | 485720 | | Gemmer | Roseville, CA | | |
| L320 | 1964 | 4-L320-49212 | 497350 | | Quandons | Australia | | |
| NL320 | 1964 | 4-L320-60084 | | | layedoutb2k | | | |
| NL320 | 1964 | 4-L320-60090 | | | aReOhBe? | | Red | J-series engine with Z trans |
| L320 | 1964 | 4-L320-60212 C | 341683 | | | OR | | |
| NL320 | 1964 | 4-L320-60265 | | | jhogie | | | |
| NL320 | 1964 | 4-L320-60302 | | | hctub | | Red | |
| NL320 | 1964 | 4-L320-60313 C | | | CoolCoupe42 | Henderson, NV | | Parted out |
| L320 | 1964 | 4-L320-60386 | | | CoolCoupe42 | Henderson, NV | | |
| NL320 | 1964 | 4-L320-60550 C | | | headhunter2099 | San Diego, CA | | |
| NL320 | 1964 | L320-360050 | | | NL320what | Sacramento, CA | White | |
| NL320 | 1964 | NL320-360084 B | | | Rigo | Tecate, MX | | |
| NL320 | 1964 | NL320-360143 | 291752 | | montanajoe1983 | Bozeman, MT | Red | |
| NL320 | 1964 | NL320-360176 | | | Wildeman | WA | | [email protected] |
| NL320 | 1964 | NL320-360187 C | | | twolarrysracing | Placerville CA | Bamboo | |
| NL320 | 1964 | NL320-460288 | | | monga | | Orange | |
| NL320 | 1964 | NL320-60300 C | | | datsunsforfun | Toronto Canada | | |
| L320 | 1964 | L320-201109 | 15623 | | | | Blue | Formerly owned by Cody Price in CT |
| V320 | 1965 | 320-620135 | 582617 | Conor Evans | | S Australia | Yellow | Originally light blue, panel van version |
| L320 | 1965 | L320-013719 D | | Dale Sipe | Dsipe | | | |
| L320 | 1965 | L320-014160 | 666958 | Izzy Elizondo | Izzy Elizondo | Mercedes TX | | Being restored |
| L320 | 1965 | L320-012231 | | Jacob T Hilliard | jeepinjakear15 | Moses Lake, WA | Bamboo | |
| L320 | 1965 | L320-000510 D | | Mike | mgpbowties | | | |
| L320 | 1965 | E 1502310 | | Rex Birkmire | speeddoctor | FL | | Was a Delta Airlines support vehicle |
| L320 | 1965 | 4-L320-00601 D | | Rick | rusty68mgb | ME | | |
| NL320 | 1965 | NL320-360262 B | | Wick Humble | Wick Humble | | Black | |
| NL320 | 1965 | NL320-3604510 | | Wick Humble | Wick Humble | | Red | |
| L320 | 1965 | 4-L320-014100 | 667553 | | bigburdo | Sanger, CA | Bamboo | sold on ebay Jul 2020 |
| L320 | 1965 | 4-L320-01824 | | | | | | Spotted in Northern CA |
| L320 | 1965 | 4-L320-02536 | | | bpaul | | | |
| L320 | 1965 | 4-L320-03461 D | | | NormanSufficool | CA | Green | |
| L320 | 1965 | 4-L320-03558 D | | | jimbar99 | | | |
| NL320 | 1965 | 4-L320-60042 D | 335507 | | charliej13 | Lebanon, OR | Blue | |
| NL320 | 1965 | 4-L320-60295 | 349163 | | | OR | Red | |
| NL320 | 1965 | 4-L320-60511 | 387304 | | | OR | Blue | |
| NL320 | 1965 | 4-L320-60576 | 315395 | | DylanFM | | | Not original engine |
| L320 | 1965 | L320-000188 | 510731 | | Aairhead | | | |
| L320 | 1965 | L320-000291 | | | dirt666 | Vancouver | | |
| L320 | 1965 | L320-000487 | 520225 | | FlynZ | KS | | |
| L320 | 1965 | L320-000783 | 529657 | | slowkillerb | Fallbrook, CA | | |
| L320 | 1965 | L320-010496 | none | | marblemania | OR | | V8 swap |
| L320 | 1965 | L320-010782 | | | dp320 | | | |
| L320 | 1965 | L320-011330 | | | ehime | | | |
| L320 | 1965 | L320-0113531 | | | Rusty320 | PA | Blue | Now flat black with flames |
| L320 | 1965 | L320-011380 | 586230 | | | OR | Blue | |
| L320 | 1965 | L320-011621 | 594572 | | | OR | White | |
| L320 | 1965 | L320-011627 | | | | | | Last known location - Junkyard in Outlook, WA |
| L320 | 1965 | L320-011648 | 595864 | | | OR | White | |
| L320 | 1965 | L320-011999 | | | marblemania | OR | | Parts |
| L320 | 1965 | L320-012181 | | | Kfunk | Athens, OH | Red | J13 swap |
| L320 | 1965 | L320-012383 | | | Fowler | Nine Mile Falls, WA | Red | |
| L320 | 1965 | L320-012963 | 631659 | | | Leavenworth, KS | Red | originally sold at Johnson Ford-Lincoln-Mercury dealership in Lewistown, Montana |
| L320 | 1965 | L320-013406 D | | | | Anza CA | Blue | |
| L320 | 1965 | L320-013585 | 648875 | | jungerfrosch | Lima, NY | Red | |
| L320 | 1965 | L320-014771 | 1678305 | | dirt666 | Vancouver | | Parted out |
| L320 | 1965 | L320-035817 | | | jaykay | Durban, South Africa | | |
| NL320 | 1965 | L320-3-60401 | 519637 | | jhogie | Oregon | Blue | not original engine |
| L320 | 1962 (?) | L320-200866 | | | Jhogie | Eugene, OR | | On Samurai 4x4 frame, V8 |
| L320 | 1962 (?) | L320-200881 | | | Sadie10023 | | | |
| L320 | 1962 (?) | L320-233152 | 180870 | | | Beaudesert, QLD, AU | | |
| NL320 | 1964 | 4-L320-60529 | 390614 | Joshua Whitford | | Orlando, FL | White | Formerly owned by Rex Birkmire |
| NL320 | 1964 | 4-320-51784 | 473834 | Jamie Sargeant | | Sydney, AU | White | LS engine swap |
| 320 | 1965 | 320-026158 | 586735 | | | QLD, AU | Blue | Adrian Diehm reports this one as parted out |
| | | | | | | | | |
| | | | | | | | | |
| | | | | | | | | |
| | | | | | | | | |
| | | | | | | | | |
| | | | | | | | | |
| | | | | | | | | |
| | | | | | | | | |
| | | | | | | | | |