Site Links
Trusted Datsun Resources
Before Nissan became the global automotive superpower it is today, its beginnings were humble, yet inspired. Today, classic Datsuns are appreciated and recognized for their engineering and style.
It's our goal to help spread the story of Nissan's heritage in the US and bring Datsun owners and fans together so they can share information. Through restoring, driving, and showing our classic Datsuns, we hope to share our appreciation of the rich and interesting history of the company.
Remembering Arthur Hughes and his Datsun 510
In 1971, Arthur Hughes purchased a 1972 Datsun 510 4-door sedan from Brasso Datsun. Little did he know the lasting effect this car would have on the community, many decades later. Join us for the story of a remarkable man and his car.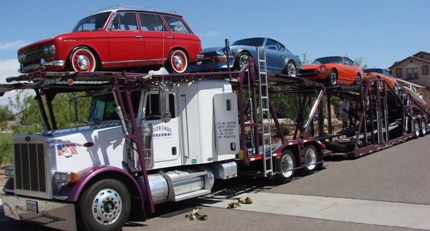 The 7th Annual Japanese Classic Car Show in Long Beach, CA was a huge success, and the crew from NICOclub turned out in full force. Joined by the Desert Datsuns group, we brought out 5 of our classic Datsuns. Next year, we're shooting for 7!