My total budget for this project, including purchase, was $15,000. I planned on doing 98% of the work myself, and only subbing out work on occasion where needed. I hoped to make good use of the budget by making sound decisions going forward. Lots of research was done, tracking spreadsheets, evaluating, and shopping costs from all over the place – even across the sea from Japan, to make sure I got the best deals possible. Research into L28 blocks, heads, head flow characteristics, and other info helped me nail down how I wanted this to turn out. However, as any hot rodder knows, parts sometimes don't fit, and sometimes your ideas just don't always work out. This increases cost, and puts a strain on the entire project.
Looking at other builds online helped me find inspiration for where I wanted to take this car. I studied the "Kuro Z", "Sakura Z", "Imai Works 260Z", "Yuta Z", "Vengeance Z" and many many more that maybe have no names, but are equally impressive. I looked at everything from car colors, wheels, body modifications, interior and other areas to decide what I was trying to accomplish. Crazy bosozoku cars, shakotan cars, race cars, street cars, everything – still soaking up knowledge and ideas.
Eventually I settled on wanting an old school Japanese muscle car – on a reasonable budget, of course. I would stick with the stock engine, go down the triple-Weber route, headers, exhaust, and other go-fast bits to try and make everything fit within my budget at that time. Weight reduction would dictate removal of the bumpers, some fiberglass bits, and removal of other unnecessary bits no longer needed (AC, heater, etc) to make it lightweight. I wanted this car to be so unique and different, but in a cool way, that it would get known. Kinda vain, I know, but I was determined to put out a cool car that would spark conversation – either good or bad – within the community.
Of course, every great project needs a name to go down this route. Any of you know Eleanor? Of course you do. What about Christine? Yep, you know that one too… This is why it would need a name going forward…. "BanZai Runner" was the name I eventually came up with.
Eventually this picture made its way to me one night. An old Polaroid picture, taken in Japan, year unknown. Fender mirrors, wide rear tires, flares… perfect, just what I was looking for.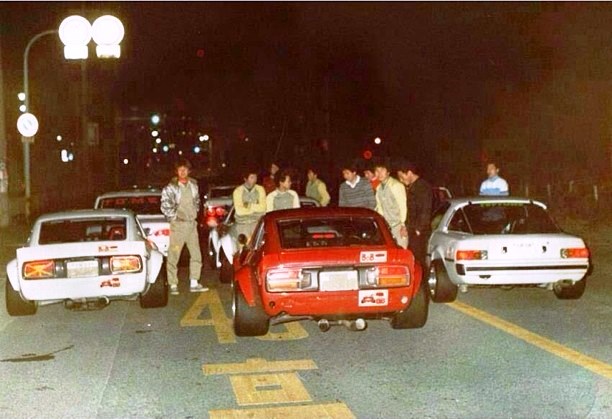 Once some bigger problems started happening, the budget got thrown for a loop and put the entire project into jeopardy. I was literally at a crossroads with my wife with this love/hate relationship that had been building. Talking to several members in the community, as well as my father-in-law, and friends… it was decided I would keep trudging along… somehow I would find a way to complete this car, and make it everything I wanted it to be.
Engine problems threaten to sideline the Banzai Runner for good…
Questions about this build? Comments? Discussion here: Widebody 280Z discussion